Tacoma, WA (February 28th, 2013) – After a brief layoff, Zahir Raheem will make his way into the ring when Halquist Productions brings Battle at the Boat back to the Emerald Queen Casino for the 91st time. In the main event, Raheem (31-3-0) is scheduled to fight Spokane's Santos Pakau (28-7-2) in a 10 round thriller that will have fans excited to see Raheem once again take a run at a world title fight.
Tickets for Battle at the Boat 91, scheduled for March 23rd, are on sale now and can be purchased at the Emerald Queen Casino box office or online via Ticketmaster.
Raheem recently signed a long term promotional agreement with Halquist Productions and fans can look forward to seeing him fight in Battle at the Boat main events at the Emerald Queen Casino in Tacoma, WA throughout 2013. "I'm very excited for one and I'm proud to be a part of such a good team in Halquist Productions," said Raheem when asked about how he's feeling about getting back in the ring.
King Raheem shook the boxing world in 2005 when he earned Ring Magazine's "Upset of the Year" after defeating a prime Erik Morales who was coming off a victory over Manny Pacquiao. After Raheem defeated Morales, he and his management team found it difficult to find a big name opponent as Raheem was ready for his title shot, but no worthy opportunities were coming his way.
After a 2 year layoff from his last professional boxing match, Raheem his ready to start his title run fresh with Halquist Productions. The first step in the process will be taking on Santos Pakau on March 23rd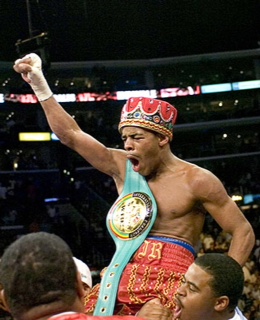 "We're very excited to bring Raheem back to boxing. He's had some huge victories throughout his career. We'll fight him at the Emerald Queen Casino a couple of times and see what happens after that," said promoter, Brian Halquist, about the signing of Zahir Raheem.
In the semi-main event, local up and comer Marcelino Pineda (3-0-0, 3 KO's), fighting out of the Round 3 Boxing Club in Toppenish, WA will step into the ring with British Columbia's, Dave Petryk (3-3-1). This will be Pineda's 4th appearance at the Emerald Queen Casino. Pineda is coming off a 1st round TKO victory at Battle at the Boat 90. Petryk will be making his 2nd appearance on Battle at the Boat card after coming off a close decision loss in early 2012.
Along with the two headliners, four other action packed bouts will take place throughout the night. The Battle at the Boat has turned into the longest running boxing series at any tribal casino in the United States and has become the premier boxing promotion in the Northwest. Halquist Productions has promoted numerous title fights that have been showcased on every major sports network in the nation including: ESPN, ESPN 2, HBO, and SHOWTIME. For more information about Battle at the Boat 91 and all other Halquist Production events, please visit www.halquistproductions.com