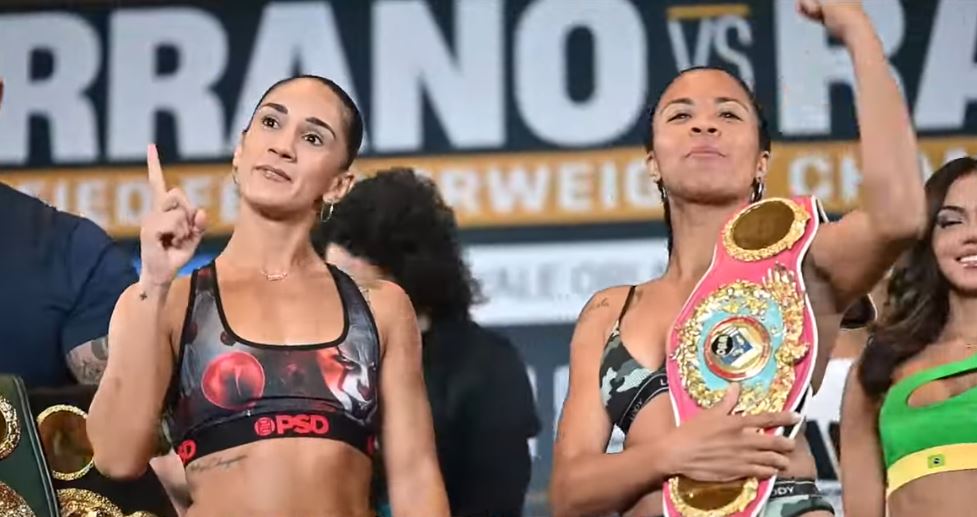 On Friday night, Amanda Serrano and Danila Ramos will make history as the first female boxing match to fight 12 rounds for 3 minutes a round for the unified WBO, WBA and IBF featherweight championship.
A Free live stream preliminary card will broadcast on the DAZN YouTube channel prior to the main card.
Puerto Rican champion Amanda Serrano (45-2-1, 30 KOs) is one of the most popular female fighters in the world and the historic multiple division world champion will put her unified titles on the line when she takes on Brazilian challenger Danila Ramos (12-2, 1 KOs) at the Caribe Royale Casino in Orlando, Florida.
The card is promoted by Jake Paul's Most Valuable Promotions and it will be a historic groundbreaking event where two women fighters demanded they fight the same minutes and same amount of rounds the men fight for championship bouts.
Women usually fight 10 rounds for 2 minutes a round, Serrano hopes her fight with Ramos will change the rules and now women will be seen just as capable as their male counterparts and fight 3 minute rounds instead of 2 minutes a round.
The preliminary card will feature four bouts from the MVP promotions stable.
Main Card (DAZN)
Women's featherweight championship – Amanda Serrano vs. Danila Ramos (WBO, WBA, IBF titles)
Welterweight – Damian Lescaille vs. Ray Barlow
Lightweight – Alexander Rios vs. Benigno Aguilar
Women's Super Flyweight – Krystal Rosado-Ortiz vs. Kata Pap
Prelim Card (YouTube)
Light Heavyweight – Damazion Vanhouter vs. Nafys Anas
Bantamweight – Antonio Vargas vs. Hernan Marquez
Middleweight – Euri Cedeno vs. Dayan Depestre
Super Middleweight – Angel Chavez vs. Sladan Janjanin
Watch Amanda Serrano vs Danila Ramos Live Stream Prelims on Friday, October 27, 2023 at 6:00 PM ET / 3:00 PM PT on YouTube. The main card will air shortly after the prelims at 9:00 PM ET / 6:00 PM PT on DAZN.