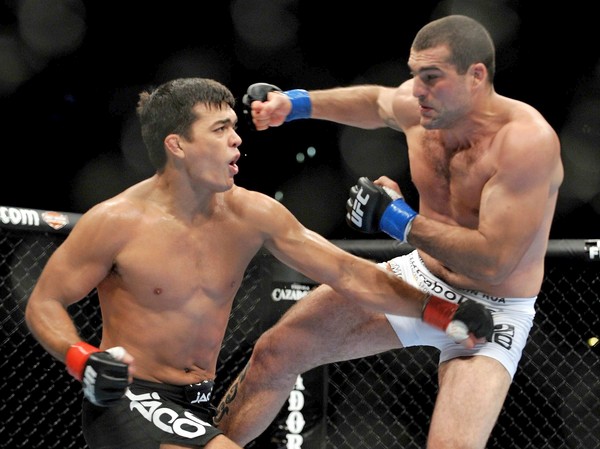 (Jon Kopaloff / Getty Images)
By Dar Mead
When equals meet, talent and acquired skill is almost neutralized or even becomes ineffective.  It is the battle of power, strength and developed technique plus the sacrifice in training coupled with a discipline that a plan can become effective in its application to defeat an opponent.
This was reflected in the Lyoto "Dragon" Machida vs. Mauricio "Shogun" Rua fight at UFC 104.  It was the battle of two powerful and skilled strikers with very different styles one is using Karate and the other Muay Thai.
Machida employed mostly his upper limbs power and technique,  using jabs and punches which unexpectedly did not work to well, unlike in his previous fights.
Machida was not able to apply his leg speed and foot movement like he has in the past, he used to move side by side to avoid the opponents attack and then counter punch and kick effectively.
Shogun was able to deliver strong kicks, using his legs most of the time and once in a while good jabs and punches, mostly for points only.  The punches were not powerful enough to hurt Machida.
The kicks were strong and clearly hurt the legs of Machida but was not enough to impress the judges to get the favorable decision.
Shogun's kicks were not enough to win.  Jabs and punches were given more points causing Machida to win, many fans were booing the decision but judges seemed to favor Lyoto's elusive moves and sporadic flurries over Shogun's consistent leg kicks.
As Anderson Silva stated  in TATAME "Shogun outlined a good strategy of attacking the legs, but it wasn't enough".  We have to accept it, but both fighters were very careful to avoid any counter punches by being very technical and timing their shots.
A rematch would be anticipated, expecting that both fighters have studied each other making the necessary adjustments and coming in with an improved gameplan.
Machida must improve his kick defense, apply his foot speed more and must deliver more powerful punches.  While Shogun realizing that he cannot win a fight solely by leg kicks must utilize stronger punches like he did against Chuck Liddell and try to take the fight to the ground.
In conclusion overall I enjoyed this fight very much,  it was like a chess match both guys calculating their next move.  Machida won but not impressively, maybe a rematch can be made  for UFC 106 since Brock Lesnar pulled out of the main event due to an illness.
Like the saying goes "Never leave the fight in the judges hands".
Leave your Comments in the Now Boxing Forum membership is FREE