Live Coverage by Gary Purfield
Yuriorkis Gamboa had the capacity crowd at Boardwalk Hall on their feet for the majority of his short four round outing with his speed, power, and electric style.  Gamboa took on veteran Jorge Solis in the main event of HBO's Boxing After Dark.
Gamboa took the first round to assess his opponent and then went to work in round two.  The Cuban came out firing and scored a knockdown early in round two and another knockdown moments later (although the second knockdown seemed to be more of a push then from a punch).
Gamboa dominated round three.  He moved back and forth in and out effortlessly with speed that can only be matched by the likes of Pacquiao, Mayweather, and Sergio Martinez.  Late in round two Gamboa bounced right, bounced left, unleashed a jab, straight right, and then a massive left hook that landed flush on his opponent's chin sending Solis to the canvas.  Solis managed to rise as the bell rang saving him for a short period of time.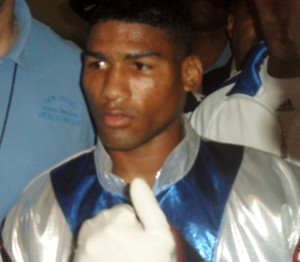 Gamboa came out in round four ready to close the show.  He dropped Solis again with a leaping straight right that again sent Solis to the mat in a haze.  Solis managed to rise but had no legs and could only stand on the ropes in a shell.  Gamboa unleashed a flurry of punches with speed and power Solis could not defend and he crumbled to the ground for the fifth time and wisely the fight was waived off.  Gamboa 20-0 (16 KO) gets the TKO at one minute and thirty one seconds of round four.  With the win he retains his WBA featherweight belt and picks up the IBF belt as well.  Solis was game but simply overmatched by the young athletic phenom and falls to 40-3-2 (29 KO).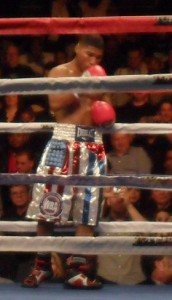 Gamboa's style lends to being exciting and crowd pleasing.  Twenty fights into his professional career he seems destined to become a ticket selling attraction despite being in a smaller weight class.  He brings an action packed aggressive style and his blend of elite speed and power leaves the viewer marveling at what they saw.
Gamboa is also improving as a fighter.  Early in his pro career he was as Max Kellerman stated in the ring interviews reckless in going for the exciting knockout but was vulnerable on defense.  Then Gamboa in his last two fights seemed to fight more conservative with more attention to defense.  Good for his health but  not good for TV ratings.  Then tonight he seemed to put it all together.  Gamboa was electric in the ring. He showed an ability employ good defense (mainly with his fast moving feet in and out of the pocket) without losing his exciting style.
Gamboa's Top Rank rival and fellow rising star Juan Manuel Lopez was on hand and entered the ring during post fight interviews.  Much has been made of the two young talents building to an eventual showdown.  The Cuban machine known as El Ciclone (the cyclone) Gamboa and the Puerto Rican star Lopez or Juanma both seemed willing to get it on sooner rather than later.  That fight is one fans are craving and should certainly deliver intense action for however long it lasts.
Undercard Report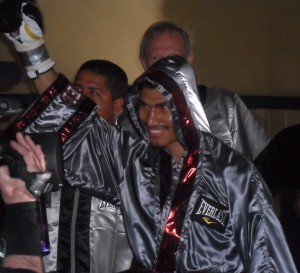 In the HBO opener Miguel "Mikey" Garcia scored a 10th round TKO of Matt Remillard in a battle of unbeaten featherweight contenders.  Garcia seemed to have mild control of a fight with a lot of punches but little actual landed shots.  It looked like this one could drag to the cards until the ninth round when Garcia started finding the mark.
The Oxnard California contender Garcia who is trained by his older brother and well touted trainer Robert Garcia dropped Remillard in the ninth and took over the fight.  Remillard hung on for the remainder of the round but never was the same.  In round ten Garcia landed again sending Remillard down two times.  Each time Remillard rose to his feet but had less and less left to offer in return fire or even being able to defend himself.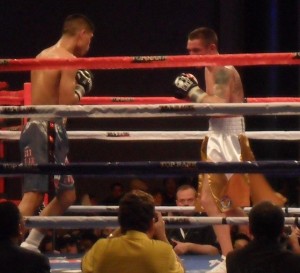 The fight was stopped after the tenth round which prevented Remillard from taking further
unnecessary abuse.  Garcia 25-0 (21 KO) continues to see his stock rise and is quickly becoming a player in the loaded featherweight division.  Remillard loses his unbeaten record and falls to 23-1 (13 KO).
Kennedy takes the Battle of the Bridge
In a local showdown of unbeaten prospects Teon Kennedy of Philadelphia and Jorge Diaz of New Brunswick New Jersey met in a junior feather weight showdown that could catapult the winner into a possible title fight.  While the fight was not included in the HBO broadcast both fighters had strong crowd support and the excitement the bout generated may have stolen the show.  Kennedy took a unanimous decision victory 113-111, 118-109, and 117-109 in an action packed brawl.  See separate article for full recap and details.
Zbikowski Survives to take the decision win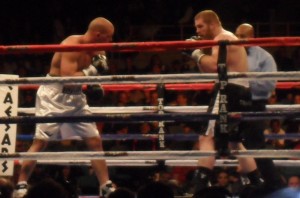 NFL vs. MMA in a heavyweight battle between former Notre Dame captain and current Baltimore Ravens safety Tom Zbikowski taking on former cage fighter Caleb Grummet in a four round bout.  Zbikowski came out on fire dominating the first two rounds and punishing Grummet with solid uppercuts and straight rights.
Then in round three Zbikowski ran out of gas and Grummet took complete control of rounds three and four.  Zbikowski tried to get a second wind but each time he fired a few punches he backed away exhausted.  The deciding point of the fight came in round three when Grummet was penalized a point for a low blow in a very questionable call.
Zbikowski now 3-0 (2 KO) took the unanimous decision by scores of 39-36, 39-36, and 38-37.  I had it 38-37 and find a hard time seeing how the first two judges gave three rounds to the NFL standout.  This fight was clearly first two rounds Zbikowski and next two rounds Grummet with the point deduction being the difference.
New Jersey prospect Glen Tapia improved to 9-0 (5 KO) with a wide unanimous decision over Eberto Medina 5-6 (1 KO) by scores of 59-54, 60-53, and 60-52.  Tapia displayed power and speed but also showed a dangerous habit hanging his hands very low that could get him in trouble against better competition.
Philadelphia native Miguel Cartegena had an impressive pro debut scoring a shutout on all three cards 40-36 in a four round junior featherweight bout.  Cartegena 1-0 displayed speed and good movement to handle his overmatched opponent Omar Gonzalez 2-6. The local prospect had a nice support of fans on hand to root him on in his debut.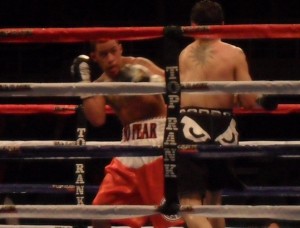 Question, comment, agree, disagree, or anything at all, send it to gpurf3@hotmail.com
Got an Opinion? Submit Your Articles and Press Releases to be posted on NowBoxing.com
*Please refrain from leaving any Racist, Profane or Derogatory comments*