Filipino American boxing champion Nonito Donaire (37-3, 24 KOs) defended his WBO super bantamweight title against Hungarian contender Zsolt Bedak (25-2, 8 KOs) by TKO at the Cebu City Sports Complex in Cebu, Philippines on April 23.
The fight started off slow in front of a packed crowd, both boxers are natural counter punchers so they came out sizing each other up and were trying to look for openings.
The second round of the fight the action picked up with Nonito landing his signature power left hook dropping Bedak and busting his face up. Later in the round he hurt Bedak again with left hooks and dropping him, Bedak beat the count and his face was a mess, a swelling eye and blood coming out of his mouth.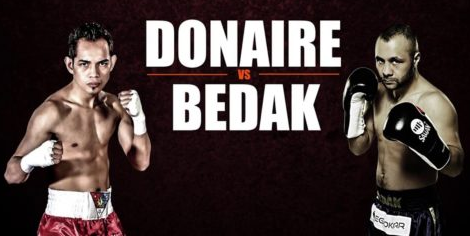 The third round Nonito Donaire showed the vintage killer instinct that made him a star in the division by timing his left hand and intelligently looking for moments went to unleash his left. Midway through the round Nonito pushes Bedak back to the ropes throws a left and right combo, Bedak falls down in looks like a grazing shot or a slip, but he looks tired and exhausted, the ref Russell Mora rules it a knockdown and asks Bedak if he wants to continue only to wave the fight off.
Nonito Donaire looked like a rejuvenated fighter against Bedak, and has stated before that he wants to face either Carl Frampton or a redemption rematch with Guillermo Rigondeaux, who beat him in 2013.