TACOMA, Wash. – Another Battle at the Boat. Another main event featuring two undefeated rising stars.
Junior lightweights Giovanni Cabrera-Mioletti and Elijah Pierce will both be looking to keep their records unblemished when they square off against each other in the main event of Battle at the Boat 116 at the Emerald Queen Casino in Tacoma, Wash. on Saturday.
The 10-round main event is one of six bouts on the card.
Tickets are available through the EQC box office and all Ticketmaster Outlets. Preliminary bouts will start at 7 p.m. Doors open at 6 p.m.
The 23-year-old Cabrera-Mioletti brings a record of 11-0 into the contest, while the 21-year-old Pierce is 8-0 with seven of his wins coming via knockout.
"This should be an incredible fight between two hungry young boxers," promoter Brian Halquist said. "You hit that stage early in your career where you have to start fighting the other great up-and-coming fighters if you want to continue to climb the ladder. That's where both these fighters are. Neither has tasted defeat. Both are eyeing big things. That makes for an exciting main event if you're a fight fan."
This marks the second straight fight Cabrera-Mioletti has faced an undefeated fighter. He did just fine the last time out, scoring an impressive second-round TKO win over unbeaten Ray Lampkin, Jr. on March 17.
"Training has been going great. I was recently in (WBC World Featherweight champion) Gary Russell, Jr's training camp for his preparation against Jo Jo Diaz," Cabrera-Mioletti said. "So I'm in magnificent shape. I learned a lot from the Russell Brothers."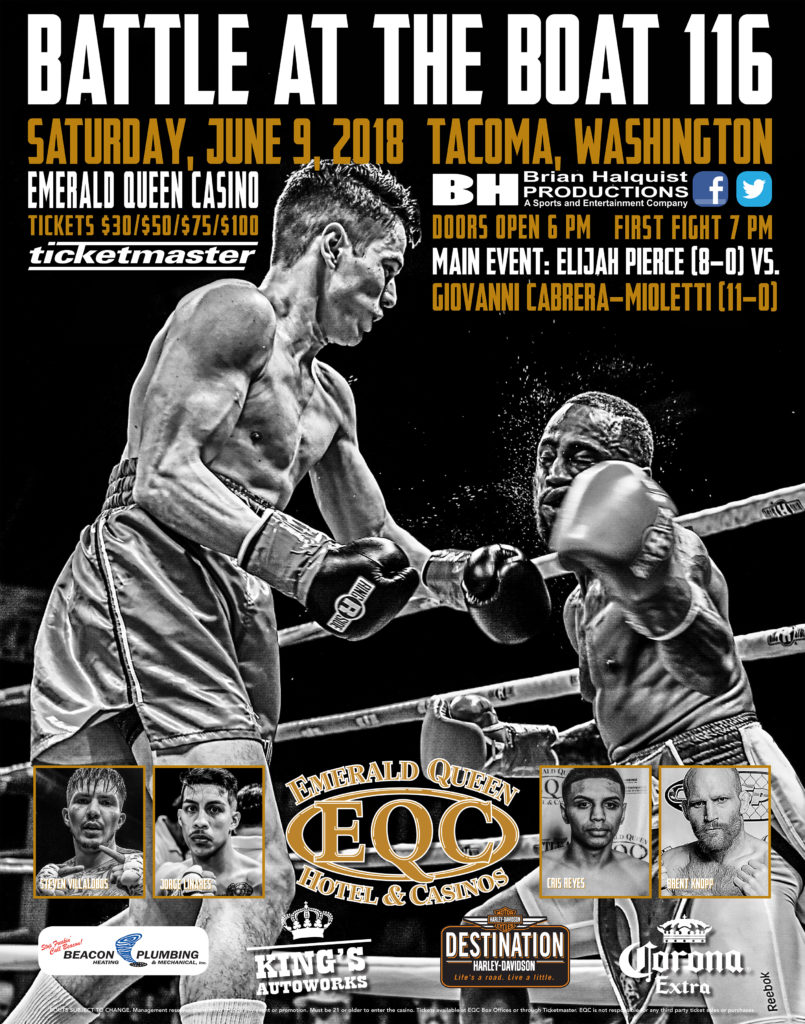 In addition to his victory over Lampkin, Cabrera-Mioletti, a Seattle native who is now fighting out of Chicago, also holds a victory over former Global Boxing Union world lightweight champion Tyrone Harris earlier this year.
Pierce will be the fourth undefeated fighter over the last six fights that Cabrera-Mioletti has stepped into the ring with.
"I take pride in the way my trainers John Nocita and Sammy DiTusa are handling my career. We are unafraid to fight the best," said Cabrera-Mioletti. "How can I say that I deserve my ranking if I haven't fought someone with a winning record? Unfortunately this is how many young fighters build their false status. Facing the best is what boxing used to be like. As a team we like to embody the gritty and glorious nature of the old boxing world."
Cabrera-Mioletti and Pierce will not be the only fighters looking to stay perfect at Battle at the Boat 116, as fellow undefeated boxers Steven Villalobos and Cris Reyes will also be competing on the card.
Villalobos (7-0-1) faces Jose Leon (6-2-1) in a 5-round semi-main event at 139 pounds.
"Fans should expect a star to be born," the 26-year-old Villalobos said. "I'm making a statement and I will be victorious."
Villalobos and Leon were initially scheduled to fight on May 24 in Idaho, but a dispute regarding the weight forced that bout to be scrapped.
A month later the two will finally face each other.
"Training has been going great. Camp has been perfect," said Villalobos, who was named the best fighter at the Las Vegas Golden Gloves Regional tournament in 2016 after defeating a three-time national Golden Gloves champion. "I'm full of energy and ready to go for the opponent that is going to be in front of me. I'm on weight. I've been ready since the last time he dropped out."
Reyes (2-0) fights a debuting Bryce Gonzales in a 139-pound bout.
Reyes is coming off a first-round victory by TKO over Nicholas Credit.
"Cris's entire performance was impressive," said Francisco Reyes, Cris's older brother and trainer, "but what I like about him is how comfortable and confident he feels once inside the ring."
As an amateur, Reyes was a 2015 National PAL champion, a 2015 Junior National Golden Gloves runner-up and a two-time Ringside World Championship runner-up, while rising as high as No. 3 in the rankings in the United States.
The 18-year-old made his pro debut on Oct. 28, 2017 by defeating Jonathan Arias.
Battle at the Boat 116 will feature the VIP experience with 3rdRow Seats being discounted to $75 per ticket. All fans seated in in the VIP section (rows 1-3) will have an exclusive access point and a dedicated server to help create a true VIP experience.
Battle at the Boat 116 is brought to you by Brian Halquist Productions. For more information, please visit www.halquistproductions.com and the Battle at the Boat Facebook page.
Battle at the Boat 116 Card
Giovanni Cabrera Mioletti (11-0-0, 3 KOs) vs. Eliah Pierce (8-0-0, 7 KOs)
5 Round Bouts
139 pounds: Jorge Linares (3-1-0, 3 KOs) vs. Antonio Neal (4-8, 3 KOs)
4 Round Undercard Bouts
139 pounds: Cris Reyes (2-0-0, KO) vs. Bryce Gonzales (debut)