Sullivan Barrera takes on Seanie Monaghan at the Aviator Sports Complex, Brooklyn, New York, the event is promoted by Main Events and live streamed broadcast on Golden Boy Fight Night Series on FaceBook.
The Barrera vs. Monaghan fight was originally scheduled for August 18 in Bethlehem, Pennsylvania, until Barrera suffered an eye injury in training camp so the fight was called off in July and later rescheduled for November, so Barrera could have time to recover from the injury and get a proper training camp in.
Sullivan Barrera (21-2, 14 KOs) is one of the top contenders in the light heavyweight division with only two losses, a unanimous decision loss to undefeated Andre Ward and a TKO loss to Dmitry Bivol, he is looking to bounce back to title contention and tonight will be the first fight on the road back.
Barrera's dream since defecting from Cuba to become a professional fighter was to become a world champion, he failed in his first two tries for a belt but feels they were only learning lessons and will not deter him from accomplishing his dream.
Seanie Monaghan (29-1, 17 KOs) was once a hot prospect but at 37 years of age he will need to be extra motivated and in tip top shape to become a world champion at this advance stage of his career.
His only defeat was to Marcus Browne by TKO in 2017 at the Nassau Coliseum, he is coming off a unanimous decision win against Evert Bravo and will be in for a tough one tonight against Barrera.
This is a make or break fight for both combatants, one will advance one more step forward to another world title shot the other will be setback. This should be an interesting 10 rounds of boxing in the light heavyweight division between two top ten contenders.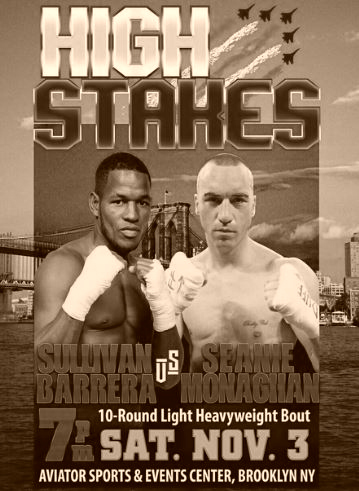 The Sullivan Barrera vs Seanie Monaghan event will stream live on Facebook November 3, 2018 (9:00 p.m. ET/ 6:00 p.m. PT) at www.facebook.com/GoldenBoyFN.