By Chuy Marco
Manny Pacquiao and Brandon Rios are busy touring China to help promote their upcoming Pay-Per-View bout in Macau, China, hoping that the Chinese people will order this fight between two boxers coming off losses, aka the battle of the losers. The fight won't be a big deal in the United States because after Manny Pacquiao just got knocked out by Juan Manuel Marquez and lost a decision to Timothy Bradley, his appeal has vanished, he no longer has the drawing power he once had so they are hoping to try their hand in Asia to see if they can get over 30 million Chinese to buy the PPV at 5 dollars a pop.
I have to admit even though I've been critical of Manny Pacquiao in the past, I do give him credit for at least giving a young hungry Mexican American fighter like Brandon Rios a chance to retire him for good. In Typical Pacquiao fashion he is fighting another boxer coming off a defeat, but Rios is not going to lose, he will knock out the Pacman for good and we will see Rios fight the winner of the Juan Manuel Marquez vs. Timothy Bradley fight.
If Pacquiao is looking to continue making movies after he retires, they could cast him in the remake of Fantasy Island in the starring role of Tattoo, played by the late Herve Villechaize who happens to be of Filipino ancestry just like Pacquiao. If you see Manny standing next to former NBA star Yao Ming, you will see the striking resemblance he has to Tattoo (Herve Villechaize) and can almost picture him say "Da Plane! Da Plane Boss!"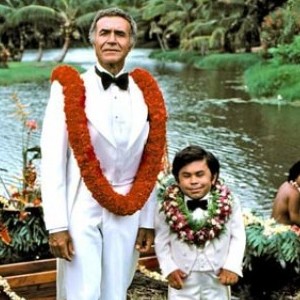 Watch the opening scene of Fantasy Island with Ricardo Montalban and Herve Villachaize


Big time boxing fan. Grew up in East Los, and been an avid follower of the sport and the legends like Julio Cesar Chavez, Vicente Saldivar, Salvador Sanchez, Carlos Zarate, Erik Morales, Ricardo Lopez and Juan Manuel Marquez just to name a few.
Current favorite boxers: Canelo Alvarez, Mikey Garcia.