SHOWTIME sports will cover the buildup to the Deontay Wilder vs. Tyson Fury WBC heavyweight championship fight with ALL ACCESS the countdown series that goes deep into the fighters training camps including interviews of the fighters and their trainers.
Deontay Wilder and Tyson Fury are both undefeated but stylistically they are polar opposites with Wilder a wild and heavy handed puncher and Fury a 6 foot 9 giant who relies on his footwork and movement more than power.
Fury is a brash and opinionated champion. He is known for his antics in and out of the ring, such as singing after fights and acting crazy like when he dressed up like Batman to attend a press conference.
With all the clowning around, Fury held a deep dark secret he was suffering from severe depression and anxiety, he went to seek help and is now a better man for it and always makes sure to tell others they shouldn't be ashamed to get help for mental illness.
Wilder is the American champion from Alabama, he isn't the most technical of boxers but he has his devastating right hand that can knock any man unconscious. Before landing the fight with Fury he was trying to chase a unification bout with British champion Anthony Joshua, but the Brit refused the terms and the fight fell through, so they opted to fight the next best man in Tyson Fury.
The fight will take place at the home of the Los Angeles Lakers NBA basketball team, the Staples Center in Downtown, LA.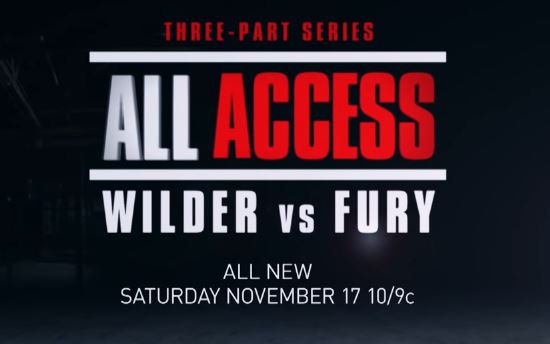 This will be one of the biggest heavyweight boxing event in Staples Center history, the last meaningful heavyweight championship held there was the Lennox Lewis vs. Vitali Klitschko fight in 2013.
ALL ACCESS is three-part series, and the premiere episode 1 will air tonight on November 17 on Showtime at 10 PM ET/PT and will show each Saturday until fight night December 1st.

YouTube Video from Showtime Sports