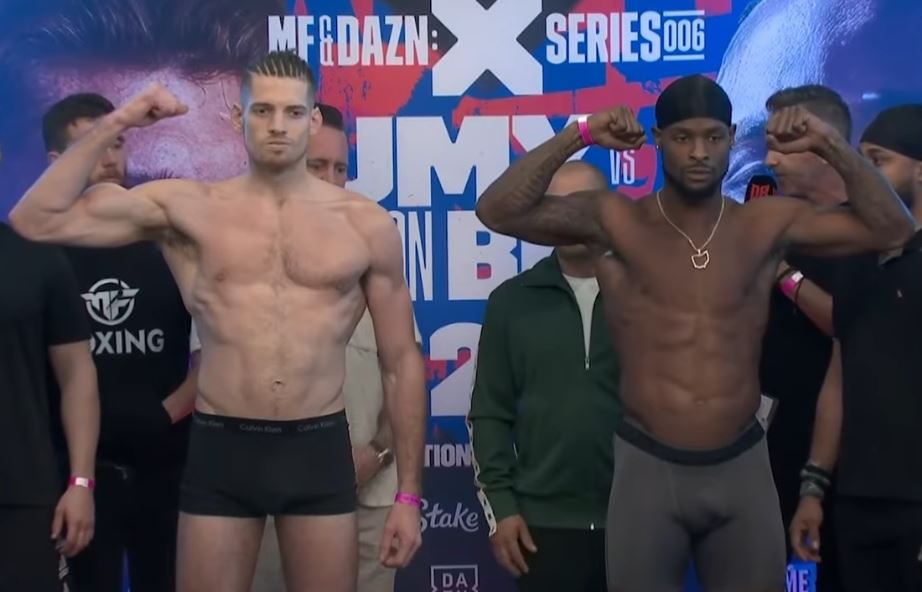 Misfits and DAZN X Series 006: JMX vs Le'Veon Bell takes place at the XULA Convention Center in New Orleans, Lousiana on April 21 and DAZN will live stream the broadcast online.
Misfits boxing is a crossover boxing promotion series founded by English YouTuber KSI and run by Mams Taylor, veteran boxing promoters Kalle and Nisse Sauerland.
KSI who is one of the biggest crossover stars into boxing started the series to help bring interest to the sport and also give a platform for social media stars, celebs, and the like to get in the ring and showcase their skills to entertain the fans.
The headliners of tonight's card are British YouTuber and self proclaimed King of FIFA JMX and retired former NFL American Football running back Le'Veon Bell.
JMX will make his boxing pro boxing debut against a legit top tier world class athlete with more boxing experience.
Bell has a knockout win over fellow NFL running back Adrian Peterson and a decision loss to former UFC contender Uriah Hall. Bell wasn't deterred by the loss to Hall and felt he won that fight because he was landing more punches but the judges favored Hall's aggression and gave him the win on the cards.
The women's fight between Fangs and Alaena Vampira will be an featured bout with both making their boxing debut on the card.
The rest of the card will features popular gamers, YouTubers, MMA fighters, and other influencers.
MF & DAZN X Series: 006 Fight Card
Cruiserweight – JMX vs. Le'Veon Bell
Women's Super Bantamweight – Alaena Vampira vs. Fangs
Light Heavyweight – Chris Avila vs. Paul Bamba
Heavyweight – Minikon vs. Jake The Viking
Lightweight – Walid Sharks vs. Ayye Pap
Heavyweight – Chase DeMoor vs. Stevie Knight
Super Middleweight – Kimbo Slice Jr. vs. OJ Rose
Lightweight – Ree Moo vs. Elijah Smith
Super Featherweight – Uncle Pizza vs. YuddyGangTV
Super Featherweight – Jeremy Hill vs. Estivan Falcao
Super Middleweight – Sean Hemphill vs. Abel Nicolas Adriel
MisFits & DAZN X Series 006: The JMX vs Le'Veon Bell boxing live stream begins at 7 pm ET / 4 pm PT on Friday, April 21, 2023 on DAZN. For more information visit: https://www.dazn.com