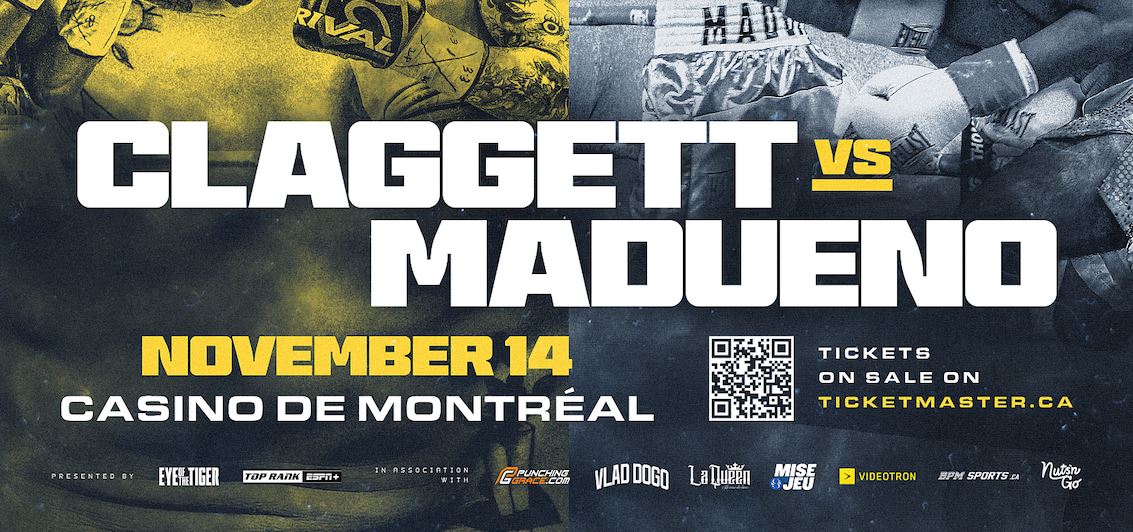 Boxing returns to Casino de Montreal on Tuesday night with fight card headlined by Steve Claggett vs. Miguel Madueno and Steven Butler vs. Ivan Alvarez.
Eye of the Tiger Management always delivers when they put on local fight cards in Quebec, and November 14th is no exception with a line up of Canadian talent and action packed matches.
The event will be televised in Canada and live streamed in the United States on ESPN+.
In the main event, 34-year old Steve "The Dragon" Claggett of Calgary, Alberta, Canada will takes on Miguel "Explosivo" Madueno of Sinaloa, Mexico in a 10-round contest in the 140-pounds division.
Claggett (36-7-2, 25 KOs) has been on a up and down journey in boxing, but he is on a 7-fight win streak and believes he will soon be able to fight for a world title if he keeps winning.
His opponent is a very dangerous top ten ranked light welterweight contender who possesses knockout power.
The 25-year-old Madueno (30-1, 28 KOs) only has one loss to his record and he will also have the youth advantage being 9 years younger than Claggett.
Claggett vs. Madueno will be a good match up for fans who enjoy action and knockouts, both fighters possess knockout power and can end the fight at anytime, so don't miss it.
In the co-main event, Steven Butler (32-4-1, 26 KOs) of Montreal, Quebec goes head to head with Mexican Ivan Alvarez (32-14-4, 21 KOs) in a middleweight 10-rounder.
Butler is a fan favorite in Canada, and is best known for his warrior spirit and willingness to go out on his shield, he felt short in his two world title opportunities with the most recent loss being to undefeated champion Janibek Alimkhanuly. Butler is not discouraged and will continue his journey to another world title shot.
Fight Card
Light Welterweight – Steve Claggett vs. Miguel Madueno
Middleweight – Steven Butler vs. Ivan Alvarez
Light Heavyweight – Imam Khataev vs. Fernando Galvan
Light Heavyweight – Mehmet Unal vs. Jaime Hernandez Lopez
Super Middleweight – Wilkens Mathieu vs. Grzegorz Mardyla
Super Middleweight – Moreno Fendero vs. Cristian Lopez Lozano
Watch Steve Claggett vs. Miguel Madueno on Tuesday, November 14, 2023 at 8 pm ET / 5 pm PT, Live Stream on ESPN+ in the USA and online at PunchingGrace.com.