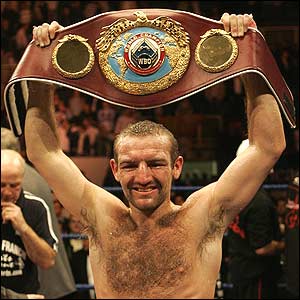 MALAGA, Spain — Former WBO featherweight champion Scott Harrison was sentenced to two and a half years in prison Friday.
The 31-year-old Scot was accused of attempted auto theft and assaulting two men – including a policeman – nearly three years ago, according to Spanish media reports.
Calls by The Associated Press to the court house were not answered.
According to court documents cited by Europa Press, Harrison was drunk when he removed the driver from his car and head-butted him, injuring his lip and knocking out a tooth. Harrison then verbally harassed the driver's wife, who was seven weeks pregnant, before attacking and injuring a policeman after he had arrived at the scene.
Harrison, who became WBO featherweight champion in 2002, spent five weeks in a maximum security jail after his initial arrest near Malaga in October 2006.
Harrison was detained by police at Malaga Airport on Thursday after a Spanish judge had issued an international arrest warrant when he failed to make a court appearance last September because he was serving time in a Scottish prison for drunk driving. (Source)
Visit the NOWBOXING FORUM