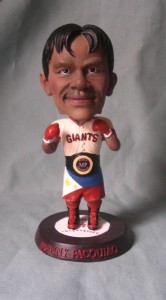 Willie Mays said hey to him, and a frenzied crowd at AT&T Park couldn't get enough of him. Not a bad night for Manny Pacquiao, even if they did run out of his bobblehead dolls.
Not a bad time for boxing, either. The sport everyone loves to bash just lost its biggest cash cow in Oscar De La Hoya, but the reports of its demise are, shall we say, premature at best.
Good thing, because where else are you going to get lines like this?
"There's going to be another bobblehead night on May 2," said Freddie Roach, who trains Pacquiao. "Only this time we're going to use Ricky Hatton's head."
They just don't say those kind of things in baseball, which may be good because guys carry bats in their hands. But that didn't stop the San Francisco Giants from honoring Pacquiao on Tuesday with a Filipino heritage night promotion complete with 10,000 bobbleheads of the fighter for a packed house against the San Diego Padres….Continue Reading
Visit the NowBoxing Forum