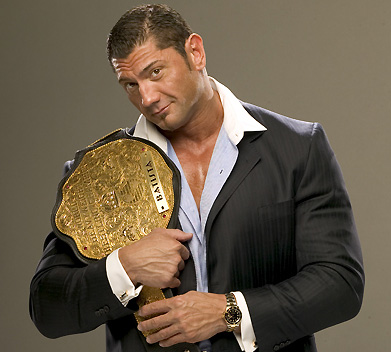 According to PhilStar.com WWE Wrestling sensation Batista will accompany boxer Manny "Pacman" Pacquiao to the ring this Saturday May 2, 2009 for his light welterweight bout against Manchester, England's Ricky "Hitman" Hatton.
Batista will carry one of Pacquiao's title belts to the ring. In case you are wondering the connection between the two, Batista is half Filipino and Greek (he sports a Filipino and Greek Flag Tattoo on his left shoulder) and is a big fan of Pacquiao.
The wrestling star also admires the boxing legends work ethic and commitment to the people of the Philippines and would like to be the Pacquiao of the wrestling world.
Pacquiao is coming off a massive win against Oscar De La Hoya where he came up from the lightweight division to 147 pounds to challenge the Golden Boy.
The ferocious southpaw finished De La Hoya by TKO when he refused to come out of the corner and it was one of the biggest upsets in boxing.
After the fight some pundits claim De La Hoya was not the same fighter and dehydrated since he hadn't fought at 147 pounds the welterweight limit in years.
Pacquiao will now drop down to 140 pounds to take on the king of the light welterweights in Ricky Hatton. This fight is considered 50-50 with many believing that Hatton's size will be too much and Hatton is not a washed up De La Hoya.
HBO Pay-Per-View will broadcast the event and it will take place in Las Vegas, Nevada.
Visit NOWBOXING For more news and opinions.