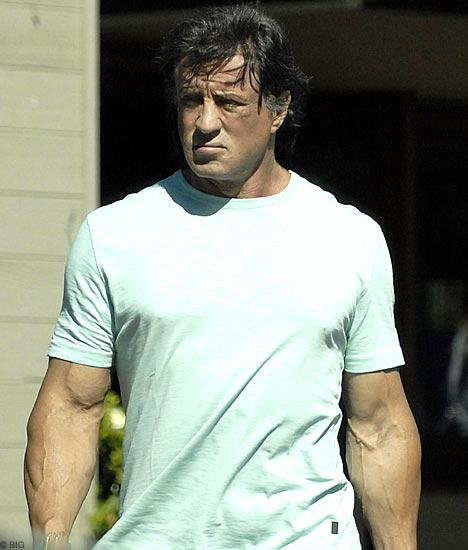 At 63 years of age nothing seems to be holding Sylvester Stallone back from making more action films.  Finishing up on his latest film The Expendables which stars a who's who of action stars from Mickey Rourke, Jet Li,  Jason Statham, Dolph Lundgren, UFC fighter Randy Couture and cameos by Bruce Willis and Arnold Schwarzenegger to name a few, and getting the green light for Rambo V: The Savage Hunt, Stallone now wants to add another sequel to the Rocky franchise.
The last installment titled Rocky Balboa seemed to be the perfect ending to a storied film franchise, but Stallone hasn't closed the book on the Rocky story  just yet.
According to Tele 5 Germany, Sly said:
"I know I'll probably make a fool of myself if I make another 'Rocky' film after turning 60.
"I also know there's gonna be a lot of criticism. Even my wife says, 'Don't do it. You're embarrassing the kids'. But I told her, 'If I don't try I'll be a really unhappy man.'
"You have to do it. Artists like me have to go through the dark over and over again."
Stallone said he wants Rocky 7 to be "about becoming older, not about boxing but about myself."
Talk about this in the Now Boxing Forum membership is FREE