By Coach "K"
Got an Opinion? Submit Your Article to Nowboxing.com
On January 23, 2010 Juan Manuel "JuanMa" Lopez the current WBO Super Bantamweight Champion will move up and challenge Steve Luevano who will be making his sixth defense of his WBO Featherweight Championship in the first part of a World Title Double Header at the WaMu Theater at Madison Square Garden.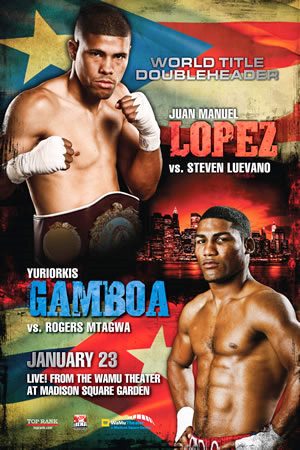 Tale of the Tape
Juan Manuel "JuanMa" Lopez
Southpaw
26 years old
27-0, 24Ko's
Height: 5'7"
Reach: 69"
Home – Caguas, Puerto Rico
Lopez after stringing fourteen victories in arrow inside the distance with stoppages of
Gerry Penalosa, Sergio Manuel Medina, Olivier Lonchi, Cesar Figueroa, Daniel Ponce de Leon and Jonathan Oquendo to name a few "JuanMa" has hands down dominated the super bantamweight division before being pushed to the distance by "The Tiger" Rogers Mtagw October this year being hurt in the final round with some saying "lucky to survive."
Steven Luevano
Southpaw
28 years old
37-1-1,15Ko's
Height: 5'7"
Reach: 69"
Home – La Puente, California
Luevano has put together eight wins with one draw to Mario Santiago June 2008 since suffering his only loss a closely contested decision to Martin Honorio November 2005 despite dropping Honorio twice in the bout. Some of those wins were over top class fighters such as Nicky Cook, Terdsak Jandaeng, Billy Dib, Antonio Davis, Cristobal Cruz and his most recent victory by disqualification over Bernabe Concepcion.
Lopez vs. Luevano What Should we expect?
We should expect a technical bout as both fighters are quality technicians with comparable skills and quality of opponents. The one clear edge being power going to Lopez. The test will be, can Luevano a very solid defensive fighter make Lopez miss as much as Mtagw did? And more importantly, can he make him pay?
Lopez, one of the most overlooked champions should be placed in the upper echelon of the games best pound-for-pound fighters. A slick cagey boxer puncher who has developed a routine of ending things early usually behind some sharp counter punching will be looking to put the  Mtagwa fight behind him. "Juan Ma's" chin has been tested by some of the best Pennalosa, De Leon and "The Bombardeio" Giovanni Andrade, 61-12, 50Ko's chalking the twelfth round of his fight with "The Tiger" in October being more of an issue of conditioning durability. Considering it was his first time past ten rounds and the average length of his fights is about four and a half rounds.
Luevano a southpaw himself is an evasive slickster who finds angles setting up his punches behind an educated jab. Lacking the punching power demonstrated by Lopez, Luevano stoppages have come by more of an accumulation of shots and he will be fighting at a more natural weight which should help neutralize some of the Puerto Rican stars power. He is solid defensively and seldom takes chances. He has demonstrated a sturdy chin, his only real test against Honorio in 2005 when Luevano spit his mouthpiece out several times in the tenth and final round.
Both are world class fighters but Lopez power and pressure attack will wear down Luevano eventually forcing an error that Lopez will exploit similar to Sergio Martinez against Paul Williams in their battle of southpaws. The one difference being Lopez will seal the deal forcing a meeting with Yuriorkis Gamboa, 16-0, 14Ko's who will be defending his WBA World featherweight title against "The Tiger" Rogers Mtagw, 28-13-2, 18Ko's in the second half of the evenings double header or a possible rematch with the "Tiger" should he shock the Cuban sensation a ending his unbeaten streak.
The unbeaten champion who has been down three times himself comes in winning his last six inside the distance and should be the favorite. A victory over Mtagw could be all it takes to set up a World Featherweight Unification showdown with the winner of Lopez / Luevano.
Speculation
Where? Where else? Madison Square Garden! When? Probably, June 12th on the eve of the Puerto Rican Day Parade. Lopez / Gamboa! A nice co-feature could be Kermit "Killer" Cintron versus the "King" of New York's Puerto Rican Day Parade himself Miguel Cotto.
Discuss this and other boxing events in the Now Boxing Forum (membership is FREE)