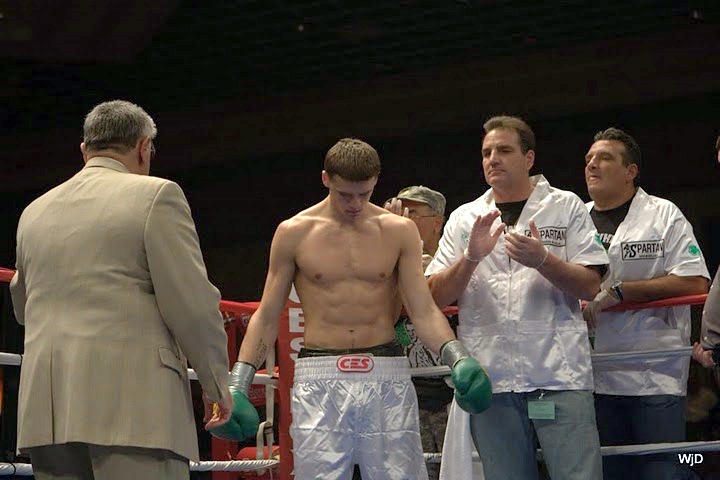 Photo Credit: Bill Doutney
"The Irish Bomber" Returns!!
By: Bill Ethan
The "Irish Bomber" Long Island's light heavyweight Joe Smith, 2-0, 2Ko's returns to the ring March 12th at the Foxwoods Resort Casino, Mashantucket, Connecticut on the undercard of the Jimmy Burchfields Classic Entertainment and Sports "Brace for Impact" headlining a heavyweight rematch featuring Tony "TNT" Grano vs Mark "Oak Tree" Brown in the main event.
Smith had to pull of a bout in December after suffering a hand injury stalling his training but the heavy handed Smith trained by the Capobianco brothers Phil and Gerry both former pro fighters with a solid boxing background coming from a boxing family as their father John was an accomplished light heavyweight fighting from 1973-1982 have the young Irish Bomber" back on track facing off with New York's Dameon Marshall, 1-2, 0Ko's.
Marshal recorded his first victory in his last outing winning a majority decision over Queens, New York's rugged banger and crowd pleaser Brian Hart last June. The Capobianco brothers plan to keep Smith busy in the gym and should things go as planned "The Bomber" will reload and fight again April 2nd on an O'Shea Brothers Boxing card at the Masonic Temple in Brooklyn, New York.
Got an Opinion? Submit Your Article to be posted on Nowboxing.com
(Please refrain from leaving any Vulgar, Racist comments or they will be removed, Thank You)
Post your Comments in the Now Boxing Forum (membership is FREE)