By: Joe Martin (SBB)
After all the smoke and mirrors employed by Floyd Mayweather Jr. avoiding fighting Manny Pacquiao is it possible that Antonio Margarito can do the self proclaimed best fighter of all time a favor and bury it for good.
Could a victory by the "Tijuana Tornado" in his upcoming fight with Manny Pacquiao November 13th at Cowboys Stadium in Arlington, Texas take all the attraction from a Mayweather / Pacquiao bout adding another reason to list of excuses for Mayweather not to fight boxing's most popular star.
As reports file in about Manny Pacquiao, 51-3-2, 38Ko's missing workouts because of a cold and canceling roadwork because of a heel injury but taking time out to play basketball and rehearse his singing many are becoming suspicious of the new congressman's focus and the possibility of "Pac Man" overlooking Margarito.
Despite the fact that many boxing insiders feel Margarita doesn't deserve the fight his after infamous plaster hand wrap scandal with Shane Mosley.
Margarito appears to be using the scandal as motivation and training as the fight will bring him redemption. All the hype out of Margarito's camp and his new trainer Robert Garcia claiming Margarito is "training like a monster," could the Mexican warrior pull off the upset and effectively kill a Pacquiao/ Mayweather fight.
Garcia claims to have the big tough Mexican puncher doing intensive roadwork alternating running on the track, running on the beach and in the mountains together with a strenuous abdominal workout, chopping wood and ten round sparring sessions alternating four sparring partners (Cleotis "Mookie" Pendarvis, 2000 Olympian "Slick" Ricardo Williams, Austin Tour and KC Martinez).
There is also the matter of the beating that the "Tijuana Tornado" took from Shane Mosley January 2009 in the now infamous "plaster hands" fight. There is no question Mosley gave Margarito a beating but I can't help wonder how much of a distraction all the pre fight hoop-la over the hand wraps had on Margarita. Especially when you consider the decisive beating Mosley took from Mayweather and the mediocre performance by Mosley against Sergio Mora.
If Margarito, 38-6, 27Ko's should somehow pull off a victory my guess is that Mayweather will now have a new collection of reasons not to face the speedy Filipino and a fresh list to begin the Mayweather / Margarito chronicles.
Mayweather may finally fight Margarito now but it will only add to the myth that Mayweather has always hand picked his opponents finally facing them when he sees himself with a significant edge.
With Pacquiao guaranteed around 15 million the "Pac Man" is putting an end to all the rumors of being distracted during training as trainer Freddie Roach who has admitted the "Pac Man" is now only about 90% ready will refine the seven time world champion moving the camp to LA at his renown Wild Card Boxing Gym. The high profile gym will be on lock down while "The Pac Man" puts the final edge on his training sparring with the likes of Michael Medina, Glen Tapia, Amir Khan who prepares for his December 11th fight bout with interim challenger Marcos Maidana and Vanes Martirosyans who openly stated he has his eyes on the $1,000 bonus Roach will pay to any sparring partner that floors the Philippine star.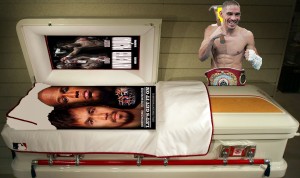 Pacquiao's training is expected to move to Texas around November 8th a week before his November 13th showdown with "The Tijuana Tornado" Antonio Margarito at Cowboy Stadium.
Margarito getting the biggest payday of his career a reported 3 million dollars guaranteed is said to be a in the best shape of his and totally focused on his shot at redemption.
Pacquiao speed will be the difference and Margarito should join the list of "Pac Man " victims with the only question being when will the opponent be just too big.
The November 13th Manny Pacquiao / Antonio Margarito WBC Jr. Middleweight Championship presented by Bob Arum's Top Rank, in association with Cowboys Stadium and MP Promotions will be broadcast live on HBO Pay-Per-View. Tickets are priced at $700, $500, $300, $200, $100, and $50 and can be purchased at the Cowboys Stadium ticket office, by phone at 800-745-3000 or online at www.ticketmaster.com.
For more boxing go to www.StrictlyBusinessBoxing.com
*Please refrain from leaving any Racial, Profane or Derogatory comments*
Got an Opinion? Submit Your Articles and Press Releases to be posted on NowBoxing.com
JOIN the NOW BOXING FORUM to discuss this and other boxing news topics (membership is FREE)