On Saturday night London based Dutch Cruiserweight prospect Mitchell Balker got the first UK win under his belt, after beating Battersea's fighting fireman Nick 'The Ox' Okoth, at the Graham Earl promoted 'Capital Punishment' event at York Hall in Bethnal Green.
Balker, who relocated to London in September last year to train with Johnny Eames at his Ultrachem TKO Boxing Gym in Canning Town, put the disappointment of losing his unbeaten record, when he faced #8 ranked Matty Askin on his British debut back in November last year, behind him and put on a dominating performance against the very tough Okoth.
Right from the opening bell Balker controlled the fight utilising crisp solid jabs to keep Okoth on the defensive, before swiftly moving in to land solid jabs and big right hands.
Round two see Okoth charge from his corner to take the fight to the Dutchman. Balker kept calm and stayed out of trouble by moving out of range and occasionally letting rip with accurate lefts and rights, to both head and body, that slowed the advancing Okoth considerably.
Round three see Balker shift up a gear and just plain out box Okoth by utilising crisp jabs and powerful combinations. Okoth pressured Balker onto the ropes, but the savvy Dutchman would just step around Okoth and launch controlled attacks of his own. Often just jabbing to the head but occasionally with a venomous three punch combination that ended with a solid left to the body.
Round four was more of the same and it was no surprise that come the final bell the referee declared Balker the winner by a clear 40-36 points margin.
Following the fight Balker said, "I got my win, my first in UK. I feel really good, my performance was good, I just got in the ring and did my thing. It's good to win all four rounds. I felt strong and was totally in control and I pushed him. It went OK.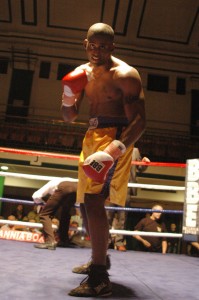 The body shots we worked on in the gym worked good. I went to Nick Okoth in the changing rooms after the fight and he told me like 'if you had hit me two, three more times there I would go down, if you hit me more with the body shots I would go down'.
It was good performance but I could do more. I felt little bit slow but it was still good.
I want another fight soon, build on the win and show what I can do."
Balker's manager/co-trainer Johnny Eames added, "I thought that Mitchell performed really well. It's his first outing since Matty Askin, and he was fighting Nick Okoth, who really is a very, very brave man and gave a very good performance.
Mitchell boxed extremely well, boxed to orders and did what he was asked to do. It's a shame he had a little bit of a cold, otherwise he may have had a stoppage, mind you I wouldn't wish that on anyone really, especially Nick as he's a lovely kid. But I think Mitchell would have definitely got the stoppage win.
Mitchell is a work in progress and we're looking to get him out again soon, he'll be available here for any fights against anyone outside the top ten."
Got an Opinion? Submit Your Articles and Press Releases to be posted on NowBoxing.com
*Please refrain from leaving any Racist, Profane or Derogatory comments*