Following his sensational defeat of World #45 ranked Richard Turba last Friday, London based Dutch Cruiserweight prospect Mitchell Balker has rocketed into the top one hundred in the World Cruiserweight rankings, moving up from his previous #220 spot to #86.
Mitchell, who one year ago relocated to London to be managed and co-trained by Johnny Eames at his famed TRAD TKO Boxing Gym in Canning Town, controlled the bout virtually from start to finish, saying that he did have to survive a second round visit to the canvas after Turba landed a sharp left uppercut followed by a left hook. After the knockdown Mitchell stayed calm and closed up shop until the end of the round.
Throughout rounds three to six Mitchell was barely troubled by Turba, even though the tough Blackpool based Slovakian was constantly letting rip with wild right hands, and controlled the proceedings with his superb jab and crisp clean combinations to pick up his fifth win, in six outings, by a 57-56 points margin.
On returning to the TRAD TKO Gym earlier today a relaxed Mitchell said, "It was a good fight, I just came in and I was really relaxed. focused, when I walked to the ring.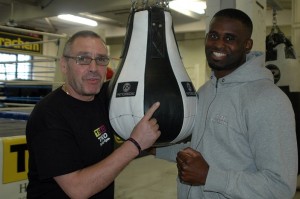 We had a perfect game plan, me, Johnny (Eames), Leon Williams worked on it. We had a perfect game plan to do it, I just had to keep focused and that's just what I did and it worked perfect.
The second round, he caught me with a shot, I'll have to watch the tape to see what went wrong and how he caught me with the shot.
After that everything went OK, he caught me with the shot and after that I was very focused and had my hands up and thought to myself stay calm and stick to the game plan.
After that I didn't get caught with shots, I was moving around using the ring. He wasn't using his jab that's why I got mine in first.
I feel very good, very good, to be in top one hundred. I'm very excited as that means if I keep winning fights bigger fights will come up. I'm very excited.
At the end of this month I will have been at the TRAD TKO gym for one year and I feel perfect, I have a good team and a good manager, good people around me in the gym. I'm very blessed with all the people around me. It seems like family, you know, in the gym. You work hard and you can trust everybody and that's why things go well."
Mitchell's next outing will be against Welsh banger Hari Miles on Spencer Fearon's Hard Knocks Boxing Promotions event at York Hall in London on the 7th October 2011.
Tickets for Mitchell Balker versus Hari Miles will be available on-line at www.tkoboxoffice.com or in person from the TRAD TKO Boxing gym, Gillian House, Canning Town, London E16 4SA early in September.