Vowing that he would never lose another MMA bout to a stronger, more muscular fighter, Fabricio Werdum has turned to MHP to help him build a more powerful body. "I have to get stronger and more muscular to win the Strikeforce and UFC Heavyweight Championships," he said after signing a sponsorship contract with nutritional supplement powerhouse MHP. "I'm excited to join forces with Team MHP!"
Fabricio became connected to MHP through his strength coach and grappling partner Jarrod Bunch, a former NY Giants fullback. When Bunch was playing in the NFL, he used MHP products religiously to maintain muscle mass and explosive power to block for Giants running backs and run over linebackers. So when his friend Fabricio lost to a more muscular Alistair Overeem, Bunch turned to MHP to remedy the 6'4", 250 pounder's lack of strength and muscle mass.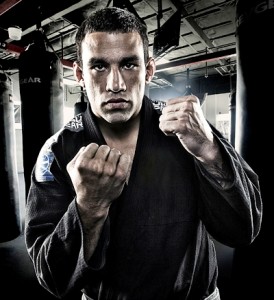 "MHP products helped me tremendously when I played for the Giants," says Bunch, "and I've been using them regularly since 1998. So I knew they could play a huge part in getting Fabricio stronger and helping him fight better. We now have Fabricio on an intense strength training program and he's taking ISOFAST 50 protein, Dark Matter post recovery and a host of other MHP products. He won't lose another bout because he's not strong enough!"
"When I fought against Overeem, I felt he was much stronger than me," adds Werdum. "I know that I have to get stronger to keep fighting at the highest level of the MMA heavyweight ranks."
For more than a decade, MHP has enhanced the strength and muscle mass of athletes in many sports, including football, strongman, powerlifting and boxing. "Based on our experience and proven track record in working with world class athletes, I am confident that MHP supplements will help Fabricio build the muscular power he needs to regain his world title," says MHP President Gerard Dente. "We are happy to have him join Team MHP!"
Watch for more news and other information about MMA star Fabricio Werdum on the MHPSTRONG.com website and MHP's Facebook page.