By Gianluca (Rio) Di Caro
Back in March this year 20 year old Olivia Goodwin became the youngest ever person to be licensed as a promoter by the British Boxing Board of Control, a couple of months later, on the 4th June, she made history again by promoting her first event, the massively successful 'Search and Destroy' headlined by Ryan Barrett versus Geoffrey Munika for the International Masters Lightweight title.
For her second event of the year 'Edge of Glory' – which takes place at York Hall in Bethnal Green on Saturday 3rd December – Olivia has another championship fight headlining, this time featuring Ali 'The Tiger' Adams, against a yet to be named opponent, for the International Masters Heavyweight title.
Baghdad born Adams is probably best known by British fans for his gutsy performance against former British, Commonwealth and European Heavyweight Champ Matt Skelton in Prizefighter – The Heavyweights lV back in September 2010.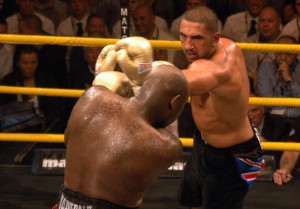 It was a tough first round draw for Adams, who had fought just eleven times, compared to Skelton's thirty one, but the relative novice showed the heart of a Tiger as he battled it out gamely over the three rounds. Adams may not have beat the highly decorated war lord, but he sure won the hearts and minds of a lot of fans that night.
Since that loss Adams has gone on to comfortably win three times, the first in November 2010 see him knockout Nick 'The Ox' Okoth after just thirty three seconds of the second round.
Adams followed this up with a solid points victory over tough Lithuanian Igoris Borucha, back in June this year, and in his final bout to date Adams comprehensively out boxed Hungary's Gabor Farkas to earn a 60-53 points victory.
Adams is intent on stepping up to make a serious assault on the international Championship circuit, this bout being the first step on the path to a World title challenge in the next year or so.
Adams' coach, Don Charles, knows the score better than most – former British and Commonwealth Champion Dereck Chisora is the flag bearer of the Don Charles squad – and is used to his charges fighting for titles, so am pretty sure the game plan will reflect that. I think we'll see Adams come out fast, either looking for an early finish or to get some big rounds under his belt early on.
To support the battle of the big boys Olivia has put together a top class card, featuring some of the best young talent from London and the home counties.
Heading up the list is former English Super Featherweight Champion Ryan 'Mr. Attitude' Barrett, who will be facing Latvian Jevgenijs Kirillovs in a six round Welterweight contest.
Barrett, who switched to the Welterweight division following the surprise loss of his International Masters Lightweight title to Geoffrey Munika back in June, seems comfortable at the new weight as was clear by his excellent performance to out point Latvian Sergejs Volodins in October.
Without doubt Barrett will be looking at quickly establishing himself in the Welterweight division in order to get back into championship contention again as soon as possible. As such you can be sure he will be looking to impress, by getting Volodins out of there as quickly as possible.
British Masters Super Bantamweight Champion Paul 'Spartan' Economides makes his first ever appearance at York Hall when he takes part in a six round international contest against a yet to be named opponent.
Comeback kid, Luton's Michael 'Chunky' Devine, will be looking to extend his three fight winning streak, since his surprise loss to Mark 'The Flash' Alexander back in April last year, when he takes on tough Dewsbury, Yorkshire, based Syrian Youssef Al Hamidi.
Devine will surely be looking for a repeat of his last fight, where he stopped Vladimiras Balaklijec in just one minute and fifty seven seconds of the second round – but not just that he had put the tough Lithuanian down three times in the round as well.
Another knockout artist on the show, the big hitting 'Eltham Assassin' Billy Cayzer, who has a perfect two fight, two wins – by knockout – will certainly be looking to make it three out of three when he comes up against Lithuanian based Ukranian Oleksiy Chukov.
Former World Kick Boxing Champion Ilir Canolli has had a great start since switching to boxing in April this year, like Billy Cayzer the Hamstead based Albanian has a perfect two fight – two wins record and will be bidding to take his record to three out of three when he faces tough Lithuanian Aleksejus Stanvekius.
Ipswich's Henry Bacon demolished Bobby Wood in under a minute back in September and will surely be aiming for more of the same against Peckham's Diego Burton.
One of the new boys in the Cruiserweight division, Colin 'Butch' Goldhawk will be making his second pro outing – his opponent Rolandas Cesna is well known to the York Hall faithful, having already fought both Scott Whyley and Ilir Canolli at the famous venue.
Burnt Oak Middleweight Mark 'Pee Wee' Adams gets a tough second pro outing, when he comes up against the highly experienced Billy Smith, who will be looking to have a good win to celebrate his one hundred and twenty first pro bout.
Leytonstone's Philip 'Quicksilver' Bowes also gets a tough veteran campaigner, the one and only Johnny Greaves, for his second pro outing.
Brighton's Nicky Jenman makes his first trip to the York Hall to take on Martyn King from Cumbria.
Crawley's unbeaten Light Welterweight prospect Ross Payne will be looking to extend his perfect 3-0 record when he faces the highly experienced Kristian Laight from Nuneaton.
Also on the card are Peckham's unbeaten Heavyweight Dillian 'The Villain' Whyte, Mitcham's Danny 'Cassius' Connor and Prizefighter Light Middleweight semifinalist Kris Agyei-Dua, all against yet to be named opponents.
Olivia Goodwin's 'Edge of Glory' event, headlined by Ali 'The Tiger' Adams, against a yet to be named opponent, for the International Masters Heavyweight title, takes place at the York Hall in Bethnal Green on Saturday 3rd December 2011.
Tickets, priced £60 (Ringside) and £35 (Standard Seated), are available now on-line at www.tkoboxoffice.com or from the TRAD TKO Boxing Gym, Gillian House, Stephenson Street, Canning Town, London E16 4SA. For further information call 07960 850645
Got an Opinion? Submit Your Articles and Press Releases to be posted on NowBoxing.com
*Please refrain from leaving any Racist, Profane or Derogatory comments*
Discuss this topic in the NowBoxing Forums (Membership is FREE)