On February 25 at Club One Fitness in Millersville, Maryland, local middleweight Tony Jeter (12-3-1, 9 KOs) will take on Jose Felix (11-11-2, 4 KOs) from Richmond Hill, Virginia for the vacant Universal Boxing Organization™ All-America Middleweight title.
The fight is a rematch of their December encounter, where Felix stopped Jeter in the fifth round.
Club One Fitness, an 18,000 square foot full service health club, complete with a boxing gym and an Olympic size boxing ring, is home of former world champion Paul Williams training camp since 2010, as well as many other up and coming professional boxers.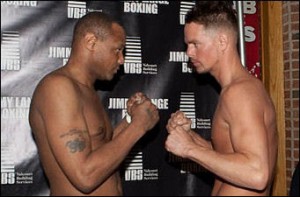 The February 25th card, promoted by Jeter Promotions, will be in the form of a Pro/Am card and will feature amateurs from the Club One Fitness boxing team as well as professionals Tony Jeter, Mike Paschall, Nick Kisner, and Sherman Artis.
Having lost to accomplished fighters such as Pawel Wolak and Paul Delgado, and undefeated prospect Bobby Bryant, Felix was a clear underdog when he got the better of Jeter this past December. Jeter is looking to get even on February 25, while Felix will be confident that he can win again.
Will it be repeat or revenge?
Tickets for the February 25 boxing show, featuring the Tony Jeter vs. Jose Felix UBO All-America Middleweight title fight, can be purchased at Club One Fitness, 1131 Benfield Blvd, Millersville, Maryland or by calling (410) 729-3900.
More info on: www.uboboxing.com
The UBO is also on Twitter: www.twitter.com/UBOboxing
And Facebook: http://www.facebook.com/pages/Universal-Boxing-Organization-UBO/129022037171860