Promoter Spencer Fearon today announced the impressive lineup for his upcoming Premier Sports (Sky platform Ch 433) broadcast mega event 'Shamrock Showdown II' which takes place at the Troxy in Limehouse, London on Friday 23rd March.
Never shy about beating his own drum – rightly so since he gives the fans exactly what they want, a night of scintillating evenly matched bouts featuring the Nation's most exciting young warriors, as well as an old war horse in the form of the magnificent former two time World Champion Choi Tseveenpurev – Spencer has come up trumps with yet a World Class headliner, when the Mongolian Warrior Choi Tseveenpurev takes on French hardman Bastien Rozeaux for the vacant WBC International Silver Featherweight Title.
Following watching a bruising sparring session, between one of his current star prospects Mitchell Balker and former British Cruiserweight Champion Leon 'Solid' Williams at the legendary TRAD TKO Boxing Gym in Canning Town, the boxer formerly known as 'The Spirit', now simply known as 'Mr Boxing' enthused profusely about his upcoming Hard Knocks Boxing Promotions show.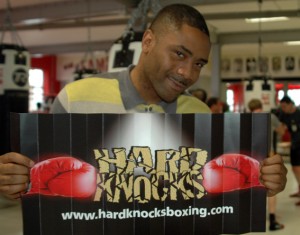 "This show is gonna be everything that Hard Knocks is all about, we've some great fights on there.
We've got Nathan Graham versus Robert Lloyd Taylor, that's gonna be an incredible barn burner over six rounds.
We've got Phil 'China' Clarke versus our guy Mitchell Balker from right here at the TRAD TKO Gym, that's gonna be something incredible.
Mitchell can't get a fight, Phil Clarke has always been complaining that he can't get a fight, so it's simple he can't get a fight and Mitchell can't get a fight so we match them together, that's what Hard Knocks is all about – genuine 50/50 fights.
Darren Hamilton's back and strutting his stuff, we've got Simon O'Donnell the Irish Middleweight – he's in the Prizefighter as well.
Massive big up to Eddie Hearn for putting Simon in Prizefighter. It took just one phone call to Eddie where I said you've got to put this guy in it. I sent him over a DVD of Simon's last fight, against Ty Mitchell, which was a real barn burner, it was an incredible fight.
Of course we've got Choi doing his stuff against Bastien Rozeaux. This guy's got an eighty percent knockout ration, so he's no bum. This is for the WBC International Silver title.
People forget that Choi is fourty one next birthday and it's hard to get credible opponents for him. You get people who say 'Yes we'll fight him' and then they check him out and the money goes sky high because these people don't want to mix it with him.
The reason we've got Martin Lindsay on the show is because potentially we would like to match him against Choi, we want to make this happen, we can make it on Premier Sports or we can make it on Sky Sports or even make it on World of Sport, but that fight has got to happen.
We wanted Choi-Lindsay for this show but his Lindsay's people said no as they wanted a couple of warm up fights first, which I understand, but I want to make that fight happen, it's a huge fight and the fans deserve to see a fight of this magnitude, that's a great, great fight. I'm all about the fans so I will make this happen.
Larry Ekundayo, don't forget this kid, he's a Welterweight prospect who has a fantastic story. It's taken three years of legal wrangling to get his stay in the country, he's now been granted his stay and he's got his license from the British Boxing Board of Control, so now Larry's going out to do his stuff now.
Larry 'The Natural' Ekundayo is going to be something special and he's going live on Premier Sports as well.
I've got to thank Premier Sports for giving me that platform of going out and giving people good fights, ya know that's what it's all about Hard Knocks for life, Spencer Fearon for life, Ciaran Baynes for life, we're just doing our stuff man."
Choi Tseveenpurev vs Bastien Rozeaux for the vacant WBC International Silver Featherweight title headlines Spencer Fearon's Hard Knocks Boxing Promotions 'Shamrock Showdown II' event at the Troxy in Limehouse, London on Friday 23rd March and broadcast live on Premier Sports (Sky platform Ch 433)
Tickets, priced £35 are available on-line now at www.tkoboxoffice.com or in person at the TRAD TKO Boxing Gym, Gillian House, Stephenson Street, Canning Town, London E16 4SA