Tacoma, WA (November 14th, 2012) – Halquist Productions brings CageSport MMA to the Emerald Queen Casino on December 1st for their 22nd show, closing out the 2012 season with one of the most exciting cards in the history of the promotion. CageSport XXII will feature two title fights in co-main events with some of the most electrifying fighters in the Northwest.
Tickets are available now. They can be purchased at the Emerald Queen Casino box office or through www.ticketmaster.com.
In the first co-main event, Anthony Hamilton (7-2) will be taking on Bill Widler (5-3) in a showdown for CageSport's vacant heavyweight title, previously held by Daniel Stewart. Hamilton fighting out of Kent, WA is coming off a November 3rd victory over Mike Riddell. He hardly had to break a sweat as the fight only lasted 7 seconds before Hamilton landed the winning knockout. Widler, based out of California, is coming off a unanimous decision victory in October when he defeated Josh McPherson.
The other co-main event features CageSport's undefeated featherweight champion, Julian Erosa (9-0) out of Yakima, WA, defending his title for the first time against one of the toughest opponents he has yet to face, Drew Brokenshire (7-3). In his last bout, Erosa defeated Jason Gybels with a 1st round knockout. Erosa claimed his title belt at CageSport XIX when he defeated Ryan Mulvihill in the 4th round with an armbar. Brokenshire out of Tacoma, WA, will be making his first appearance on a CageSport card. He is regarded as one of the top contenders in Washington and will look to claim the featherweight title come December 1st.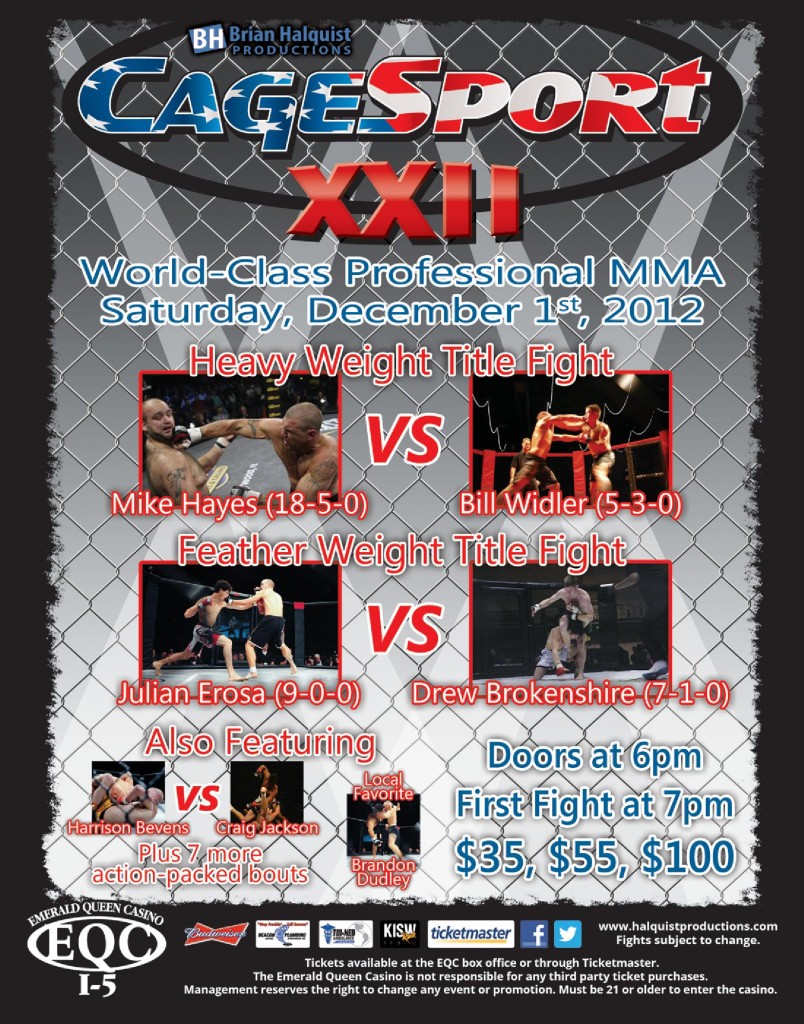 "I've never fought so close to home. It's practically in my backyard. Julian's an exciting fighter and we both aim for the finish. The fans will definitely get what they want to see," said Brokenshire, about his upcoming title fight.
"Title fights always bring a lot of excitement to an event and it's even more exciting when fans are treated to 2 in the same night. Julian will put his undefeated mark on the line when he faces his toughest opponent yet in a true 50-50 fight. This is the best fight on paper that CageSport has ever seen," said promoter, Brian Halquist, about the co-main events.
Both title fights will be scheduled for 5 rounds.
Undercard action, all scheduled for 3 rounds each, will have Harrison Bevens (5-0) taking on Craig Jackson (4-2). Bevens and Jackson are both fighting out of Bellingham, WA. Also on the card is local favorite, Brandon Dudley, who made his return to MMA after a 5 year layoff at CageSport XXI. The card will also have 7 other action packed bouts that will be announced shortly.
CageSport XXII is set for December 1st at the Emerald Queen Casino with doors opening at 6 PM and the first bout scheduled for 7 PM. More information for CageSport XXII and all other Halquist Production events can be found at www.halquistproductions.com.