ALLENTOWN, PA (February 11, 2013)—This past Saturday night at the Rodeway Inn, Kings Boxing Promotions put on a terrific night of both amateur and Professional boxing that was highlighted by big wins by Keenan Collins, Aaron Kinch and John Thompson.
In the final bout of the evening, Aaron Kinch scored a six round William Miranda in a Heavyweight bout.
The two waged an action packed war with both landing thunderous power shots. It was Kinch who landed the more significant blows that opened a nasty cut over the right eye of Miranda and caused swelling on the face. Miranda took some great shots and showed a heart of steel to continue to press the action. It was the scoring blows of Kinch that carried him to the victory of 60-54 on all cards.
Keenan Collins scored a stoppage in the eighth and final round over George Rivera in a rematch of a draw that took place ten months earlier.
It was Rivera who jumped out to the early by boxing well over the first half of the fight. Collins came back and started to land some hard power shots that started to wear down Rivera. In round eight Collins dropped Rivera twice that led to the stoppage at 2:16 of the final round.
Impressive Jr. Middleweight John Thompson scored a stoppage at the end of round five of his scheduled six round bout over Grayson Blake.
Thompson worked a quick jab that started carving up the nose and face of Blake and continued that pinpoint punch for much of the fight. Thompson would occasionally mix in a right hand that would land as Blake would come in.
Frankie De Alba was impressive in taking all six rounds from Isaac Suarez in their Lightweight bout.
The southpaw from Reading, PA landed some solid power punches that backed Suarez up and De Alba was in control for most of the fight.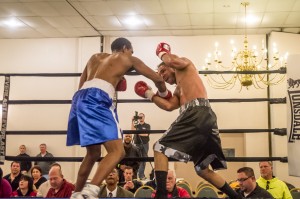 Mark Rideout of Philadelphia remained undefeated with a four round split decision over Eric Newell in a Heavyweight bout.
There was noy much sustained action in this bout the featured a lot of fighting on the inside. Scores were 39-37 on two cards for Rideout. While Newell grabbed a third card 39-37.
In the opener, Sammy Quinones got his first victory in style as he scored a third round stoppage over Charles Mack in a scheduled four round Jr. Welterweight bout.
FULL RESULTS
6 Rounds—Heavyweights—Aaron Kinch (5-1-1) 259 lbs from Newark, NJ UDEC over William Miranda (6-6-2) 231 lbs of Allentown, PA…Scores were 60-54 on all cards
8 Rounds—Middleweights—Keenan Collins (15-7-3, 10 KO's) 159 lbs of Reading, PA TKO 8 (2:16) over George Rivera (13-8-1) 160 lbs of Charlottesville, VA
6 Rounds—Middleweights–John Thompson (11-0, 4 KO's) 157 lbs of Newark, NJ TKO (End of 5) over Grayson Blake (5-2) 156 lbs of State College, PA
6 Rounds—Lightweights—Frank De Alba (6-1-2) 130 lbs of Reading, PA U DEC over Isaac Suarez (7-3) 129 ½ lbs of Lancaster, PA…Scores were 60-54 on all cards
4 Rounds—Heavyweights—Mark Rideout (3-0) 245 lbs of Philadelphia, PA S DEC over Eric Newell (4-2-1) 246 lbs of Bethlehem, PA… Scores were 39-37 on two cards for Rideout and 39-37 for Newell
4 Rounds—Jr. Welterweights—Sammy Quinones (1-1, 1 KO) 140 ½ lbs of York, PA KO 3 (1:42) over Charles Mack (0-1-1) 140 lbs of Philadelphia
The next card for Kings Boxing will be Saturday night March 16th at the Valley Forge Casino Resort