By Chuy Marco
Tonight, Mexican legend Juan Manuel Marquez will face one of the best 147 pound fighters in the world Timothy Bradley for the WBO welterweight title that Bradley won from Manny Pacquiao.
When you think of great boxers and legends still active, you think Juan Manuel Marquez. Just like Bernard Hopkins and Floyd Mayweather Jr. who are fighting past 35 years of age, Marquez just turned 40 years old and is coming off a justifying knockout victory over Filipino rival Manny Pacquiao – the win was a crowning moment and vindication for all the robberies and gifts the judges gave to Manny Pacquiao when he fought Marquez 3 times before.
Timothy Bradley is one of the most underrated boxers, people hated on him for beating Manny Pacquiao and sent him death threats but the fact is he won on the judges scorecards.
He might not be great at one thing but he is great at winning by any means necessary. He will use his head and he can hit and hold, and box or try to brawl, but the only thing he really lacks is punching power.
I believe his last fight with Ruslan Provodnikov took a lot out of him, it was a brutal beating all because Bradley thought he could go toe to toe with the Russian and he paid the price several times being rocked and dropped and out on his feet.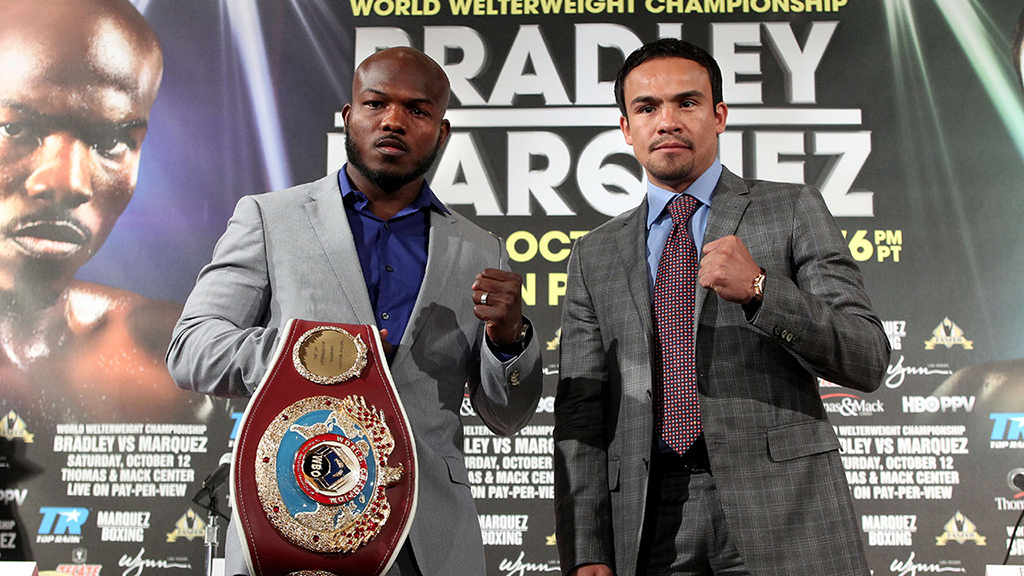 The big question is which Timothy Bradley shows up? Will he try to mix it up or will he try to box and move? I believe whatever Bradley decides to bring to the table, Marquez will counter it. I just feel that the hunger and desire for the fifth weight division title is what motivates Marquez after the crowning achievement of the Pacquiao KO. Marquez at 40 is new and improved and his power will be too much for Bradley. If what Bradley said is true that he wants to feel Marquez punch then he will get knocked out.

Big time boxing fan. Grew up in East Los, and been an avid follower of the sport and the legends like Julio Cesar Chavez, Vicente Saldivar, Salvador Sanchez, Carlos Zarate, Erik Morales, Ricardo Lopez and Juan Manuel Marquez just to name a few.
Current favorite boxers: Canelo Alvarez, Mikey Garcia.