By Dar Mead
When Manny Pacquiao fired Alex Ariza for his upcoming bout against Brandon Rios, he let go one of the key components of a fighters training regimen and that is strength and conditioning. Pacman fans were in a worry once it was noted that Ariza is now training Rios and will be in his corner when he faces off against Manny in Macau.
The worry went away once team Pacquiao announced that they would bring back and reunite with former conditioning coach Justin Fortune, the man who made the Pacman into a featherweight destroyer. Just when things were looking to go smoothly more drama ensues in the Pacquiao camp as the story broke that Justin Fortune will be unable to train Manny for this fight due to some Visa issues.
The question on every Manny Pacquiao fans mind is what type of condition will the Pacman be on November 24 in China? This is a big problem because as a fighter matures and ages, they need to get the proper conditioning in to maintain a high level of performance atop the boxing ring. Manny is no longer 25 and in his past few fights one of the biggest concerns was his lack of motivation and staying serious in training camp.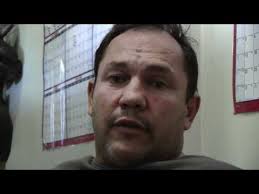 Manny has become a born again preacher, a politician, and entertainer in the Philippines, and it looks like he no longer has any interest in the sport that gave him every single fame and riches. He did look good in the early rounds of the Marquez 4 fight but he got dropped and later knocked out cold. For that training camp he refused to do any of the strength and conditioning routines with Alex Ariza and focused mainly on jogging and mitt work. Let us not forget how he took off rounds to recover when he fought Timothy Bradley, something Pacquiao never did before. When he fought Bradley he would only attack during the last 30 seconds of each round it seemed, a sign that his stamina and cardio was not up to par, the Pacman of old would have been a whirling dervish and just attack non stop once he has you trapped in a corner, instead he backed off Bradley multiple times to catch his breath.
Let's hope Manny takes this fight seriously because if his conditioning is not up to par, I see Brandon Rios pulling off the upset victory and possibly by knockout because Rios is no push over he is young, hungry and aggressive.