Canelo Alvarez is Mexican Style, Gennady Golovkin is Caveman Style.
Gennady Golovkin can talk all he wants about Mexican Style and his trainer Abel Sanchez can insult Canelo Alvarez saying he ran in the fight but the truth is the Mexican fight fans cannot be fooled, they will ride with the redhead Mexican over the Kazakhstan wannabe Mexican any day.
You can't just keep saying Mexican Style and fool the fans, that's just a gimmick and trying to label Canelo a sissy or a runner is pathetic because people will see through this.
Golovkin and Sanchez are going to pay for their words in September. Canelo clearly out boxed GGG and used very slick tactics off the ropes to evade his punches. Golovkin did nothing but move forward he didn't hurt or do any damage and was getting countered effectively by Canelo.
I just hope they have some competent judges who know boxing and don't score fights in favor of a guy slowly moving forward and think cause someone is moving back they are losing.
Canelo can do it all he is very slick like James Toney and he can knock you out if you get overconfident like he did to Amir Khan.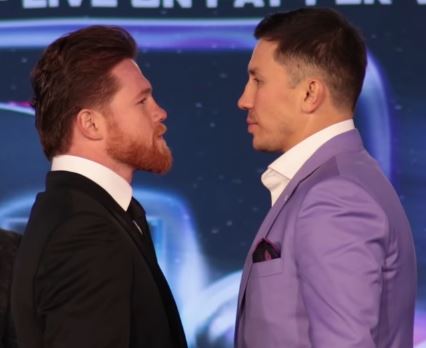 He is an intelligent fighter who sets traps and only counters when the time is right. Golovkin is more of a Caveman Style not a Mexican Style, he just goes forward gets hit in the face and throws his slow loaded punches hoping they land.
The way to beat GGG is by not being intimidated by his image, just fight fire with fire, countering him without getting hit in return.
I hope Canelo goes for the KO in this fight, all that crap being said about him taking steroids when it was proven his food was tainted is foul, the man is innocent, and he will prove it when he beats GGG again.
A lot of the Golovkin fan boys like to make excuses for their fighter, saying no wonder Canelo could take the power he was on steroids. If Canelo really wanted to sit on his punches he would hurt Golovkin bad, but he was boxing and countering instead.
These fans are so laughable, even GGG was crying that he wouldn't fight Canelo again because of the PEDs, that's all crybaby stuff, be a man and take it out on Canelo in the ring. Both guys are being drug tested and no more excuses just take this loss like a man and accept defeat.

Big time boxing fan. Grew up in East Los, and been an avid follower of the sport and the legends like Julio Cesar Chavez, Vicente Saldivar, Salvador Sanchez, Carlos Zarate, Erik Morales, Ricardo Lopez and Juan Manuel Marquez just to name a few.
Current favorite boxers: Canelo Alvarez, Mikey Garcia.