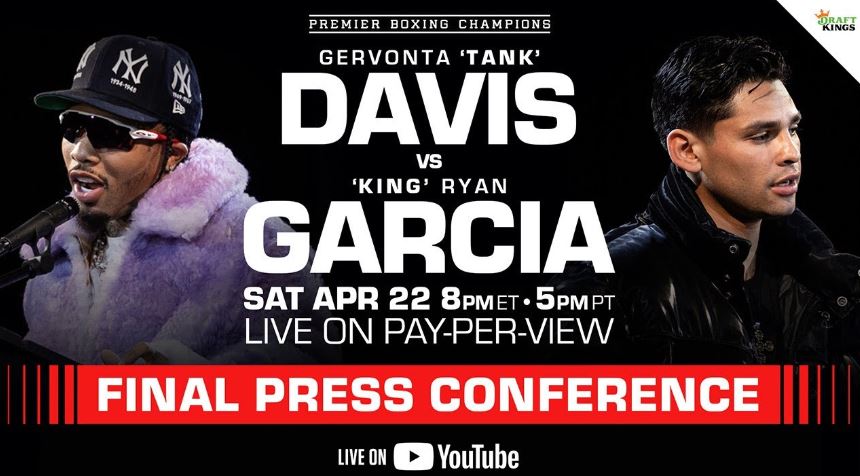 Gervonta 'Tank' Davis and 'King' Ryan Garcia will face off at the final press conference on Thursday and the two young stars and their teams will share their last words before stepping into the ring on April 22nd at the T-Mobile Arena in Las Vegas.
The final pre-fight press conference will be available online via Premier Boxing Champions YouTube page and fight fans can watch the live stream for free at 4 PM ET / 1 PM PT.
Davis (28-0, 26 KO) and Garcia (23-0, 19 KO) are both undefeated with a lot to lose, but they chose to take the old school boxing approach which is to face each other now rather than later.
In boxing the big fights seldom come when fans want them, a prime example is Floyd Mayweather vs. Manny Pacquiao, that fight came 5 years too late and ended up being a snoozer.
Tank and Garcia stylistically are two of the most exciting fighters due to their offensive nature and finishing power. This will be a can't miss event with a high chance of it ending in knockout.
Both fighters are promising a knockout and they have the power to deliver on their promises. Tank is a multiple time world champion in several weight divisions, Garcia has yet to capture championship gold but is already headlining his first Pay-Per-View on the biggest stage.
Whatever the outcome the fans will be the winners because this is one of those rare instances in modern boxing when two fighters in their prime under the age of 30 will put their undefeated records on the line to put on a show and to give the fans what they want to see.
Davis vs. Garcia will take place at the T-Mobile Arena in Las Vegas, Nevada on Saturday, April 22, 2023 at 9:00 PM ET / 6:00 PM PT on SHOWTIME Pay-Per-View.
The Gervonta 'Tank' Davis vs. 'King' Ryan Garcia Final Press Conference Live Stream begins at 4:00 PM ET / 1:00 PM PT on Thursday, April 20, 2023 on Premier Boxing Champions YouTube Channel.
>