Watch the 4th and final installment of HBO 24/7 Pacquiao-De La Hoya right before their huge pay per view fight at the MGM Grand in Las Vegas, on December 6, 2008.
Oscar De La Hoya brought in Muhammad Ali's legendary trainer Angelo Dundee as an adviser and Nacho Beristain has his chief trainer for this fight.
Nacho Beristain has history with Pacquiao and trainer Freddie Roach, his fighter Juan Manuel Marquez faced the Filipino twice and many boxing fans believe Marquez gave Pacquiao his toughest fights, the first one was a draw and the second one was a decision in Pacquiao's favor.
Roach trained Oscar De La Hoya for the Floyd Mayweather fight, and believes he cannot pull the trigger anymore, he has inside knowledge on how to beat the Golden Boy and said he has difficulty with southpaws.
On paper Oscar should beat Manny, he has the size and the skills to do so. The old adage is a good big man always beats a good little man but could father time and the weight cut down to 147 pounds take its toll on De La Hoya giving Pacquiao the advantage heading into the fight?
Follow the two camps as they finish up on the last leg of training and head out to Las Vegas to face off in the ring in front of a sold out crowd in a fight that pits the featherweight king against the welterweight legend.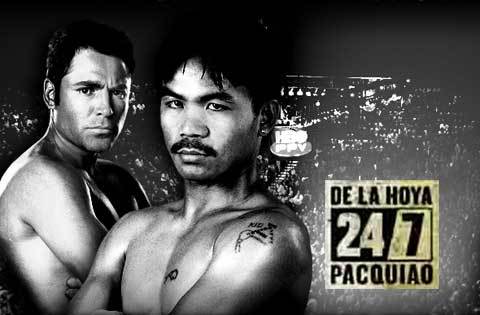 go to hbo boxing to watch the final episode.