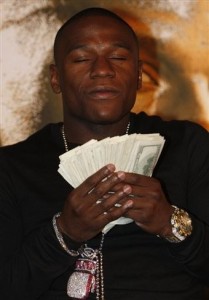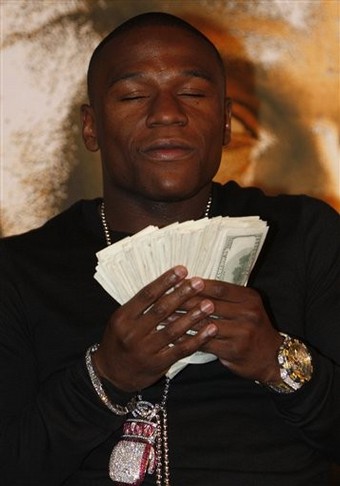 According to Robert Snell in his Tax Watchdog Blog, public record shows Mayweather Jr owes Uncle Sam big time.
From theTax Watchdog:
What's owed:
The IRS filed a $6,165,735 lien against Mayweather for unpaid incomes taxes on Oct. 9 in Clark County, Nev. He owes the money from 2007, according to the Clark County Recorder's office.
This could be the reason Floyd Mayweather Jr has shown some interest again for a big money fight and no tune up. According to his Advisor Leonard Ellerbee, Floyd gave him the go ahead to look for the best fight possible.
This comes as no shock to boxing fans especially the way Floyd Mayweather Jr supposedly spends his cash and throws out Benjamin Franklin's to crowds at the clubs and parties he attends. Floyd throws money away like it grows on trees, unless it counts as a tax deduction it makes no real sense to me.
The biggest possible fight right now would be a fight with Manny Pacquiao who holds the title of pound 4 pound best boxer in the world, a title that Floyd held before his retirement. But from the looks of it that fight has to wait because the word on various boxing sites is Ricky Hatton vs Manny Pacquiao is almost a done deal for May 2, 2009. Floyd will probably face the winner of that bout.
Join the Nowboxing Community HERE