The baddest man on the planet Iron Mike Tyson and the baddest female rocker Joan Jett shared a little known about friendship in the 1980s.
Both were at their absolute peak in terms of fame and popularity, both rebels in their respective occupations of Music and Boxing.
Jett would call the heavyweight champion before every fight to wake him up and wish him luck, the only time she forgot to call is the fateful day when he suffered his shocking knockout defeat to Buster Douglas in what was considered one of the biggest upsets in sports history at the time.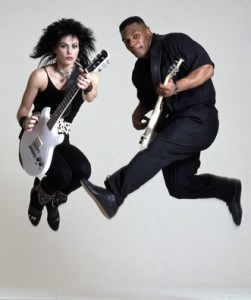 Photo by Richard Corman
From harpmagazine:
Fight-day wake-up calls were routine for Joan Jett and former heavyweight champ Mike Tyson from the sixth fight in his career up until he enlisted Don King as his manager. The first fight day that Jett did not call Tyson was the boxer's infamous Buster Douglas match-up—Tyson's first career loss.
Tyson would eventually serve time in prison and later come out to become a world champion again, but the loss to Buster Douglas in Japan was one of the resounding memorable moments in sports.
Nobody thought the undefeated Tyson who was like a pitbull in the ring would lose to a wide long shot who was brought in as a tune-up for the champion.
Tyson vs. Douglas is an example of why you should never overlook an opponent.