The IBF and WBO world heavyweight champion Wladimir Klitschko successfully defending his titles on December 13, 2008 at the SAP Arena in Mannheim, Germany when he dominated former heavyweight champion Hasim Rahman and won by stoppage in the 7th round.
The broadcast was televised by HBO in the US and they will handle the rebroadcast as well for subscribers to the channel.
Klitschko was able to land 48 percent of his punches while Rahman landed just under 15 percent.
It was mostly a jab fest by the champion, he was able to keep the challenger at bay with his long left jab and followed by occasional right hands.
The American former champ was tired and not able to get any offense going, he looked past his best years and didn't answer back for any shots the champion threw at him.
In the 7th round the referee saw enough as Rahman was a human punching bag with Klitschko breaking his guard and getting punches through with no return fire.
This was a poor showing by Rahman who became famous in 2001 for knocking out Lennox Lewis in South Africa in the 5th around to win the WBC and IBF belts. The fight was a huge upset and shocker, Rahman couldn't hold onto the belts because he got knocked out by Lewis in the rematch that happened in the same year.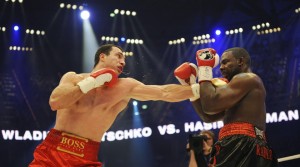 Even though the fight was boring and one-sided beatdown, Klitschko remained composed and didn't spend more energy than he needed.
For Rahman its more than likely he should hang it up, if that was a sign of things to come he will likely take more damage and wind up seriously hurt if he continues on.
Fight fans can watch the Wladimir Klitschko vs. Hasim Rahman heavyweight championship fight in its entirety on HBO. Check your local cable and satellite providers for showtimes and dates of the full replay.