Live at the Ice Works Skating Complex in Aston, Pennsylvania, and available on pay-per-view for just $12.99 two controversial celebrity figures of different sizes will square off in a David vs. Goliath match up.
Danny Bonaduce a former teen idol and current radio show host will go up against the much bigger former MLB baseball slugger Jose Canseco in a boxing match spectacle.
Bonaduce and Canseco have one thing in common, both are steroid users.
The question is how will the much shorter and smaller Bonaduce who is outweighed by the former Oakland A by 100 pounds be able to hurt him.
Tale of the Tape:
Danny Bonaduce: 5'6," 165 lbs
Jose Canseco: 6'4," 265 lbs.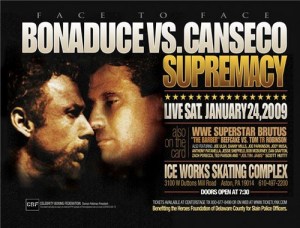 People are wondering how did this mismatch get sanctioned?
Well despite the size advantages both guys are equal in steroid use and attention craving.
Bonaduce actually has experience in boxing and has participated in FOX TV celebrity boxing before and he has that ferocious honey badger style where he isn't afraid to be aggressive.
If I were to bet on this freak show match, I would put my money on the Angry Little Ginger Man Danny Bonaduce to win on points, he will win by outworking him and being more active.
Here is Jose Canseco fighting giant Korean Hong Man Choi in an Mixed Martial Arts bout

Remember Canseco getting knocked out by Vai Sikahema

here is a short video of Jose Canseco hitting the pads before facing off with Bonaduce

The former Partridge family member and radio show host Danny Bonaduce who is currently training for his up coming bout with Canseco has experience with boxing having fought Barry Williams who played Greg Brady in the Brady Bunch in a Celebrity boxing match on FOX in 2002. Bonaduce knocked Williams down five times and won by stoppage when Williams corner threw the towel in.