Manny "Pacman" Pacquiao is the only boxer to make the list of candidates for the 2009 TIME Magazine 100, but he needs more high rated votes to make the actual top 100.
For people who follow boxing you know how influential Manny Pacquiao is in his country of the Philippines.
Whenever he fights, there is nearly zero crime because everyone stops what they are doing just to watch his fight from vendors to criminals.
He can bring the country of over 80 million and the Filipinos around the world together for that brief moment which is an amazing feat not even shared by many political figures today.
The Pacman is also one of the most generous sports figures in the world, he gives back so much to the poor in the Philippines that his American trainer Freddie Roach worries his star fighter might wind up broke.
His story inspires many people world-wide not just Filipinos but anyone who can relate to the struggle of coming from nothing  and having to survive on hope, hard work and determination to never quit no matter how tough the fight is in the ring or in life.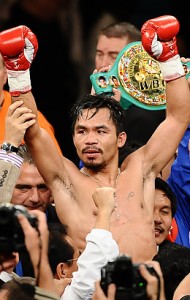 Vote for The Pacman HERE