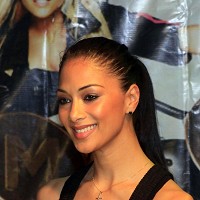 MANILA, Philippines (AP) — The half-Filipino lead vocalist for the American pop group Pussycat Dolls says she wants to sing the Philippine national anthem when boxing champion Manny Pacquiao fights again.
U.S.-born Nicole Scherzinger, who is performing with three other members of the band in Manila on Thursday, told ABS-CBN television she has always been a fan of the Filipino boxer.
Junior welterweight champion Pacquiao hand-picks the singer of the national anthem at his bouts. After his latest match with Ricky Hatton in Las Vegas in May, Filipino singer Martin Nievera was criticized in the media for altering the 1898 revolutionary anthem, which by law must be played at a marching tempo.
Pacquiao has not announced whom he will fight next, or who will sing the anthem.(Source:AFP)
Join the NowBoxing Forum