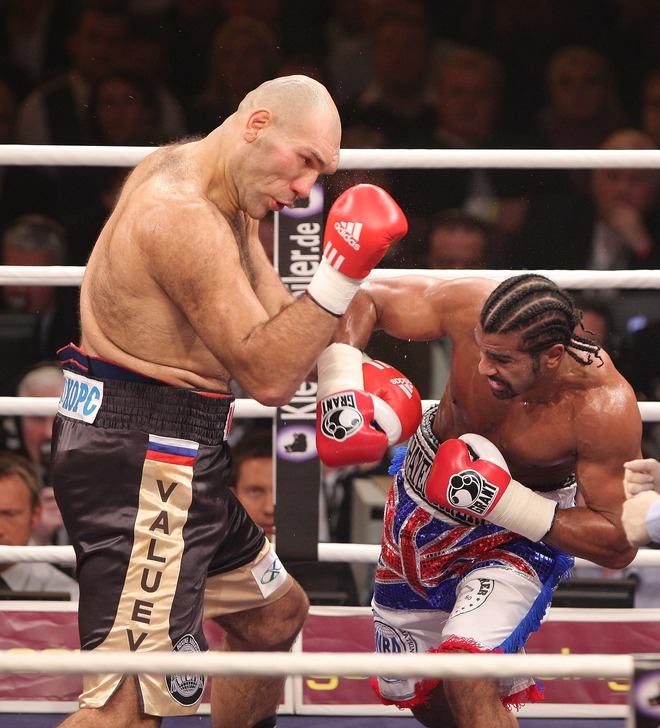 (Photo by Thomas Langer/Bongarts/Getty Images)
Update:
Before the fight David Haye talked about wanting to KO the Russian giant Valuev, but he had to settle for a majority decision victory over the 7'2 giant.  Haye looked like a Heavyweight version of Willie Pep against Nikolai Valuev.  Valuev  had trouble with the elusive movements of Haye throughout the fight.  Haye's best moment came in the 12th when he was able to rock Valuev in the middle of the round.
In the end David Haye won the WBA heavyweight title in Nuremberg, Germany, not by brawling but using a slick style and movement to win points on ring generalship.
In the post fight interview, Haye said his plan was to be more aggressive, but he broke his hand early in the fight so he had to change his approach and fight smart.
British fans were very proud of their new heavyweight Champion, David Haye brings some much needed life and charisma to the boring heavyweight division.  A possible future match up for Haye would be a fight with Cristobal Arreola who lost to Vitali Klitschko at the Staples Center last September.
Discuss this and other boxing events in the Now Boxing Forum (membership is FREE)