Manny Pacquiao Vs. Joshua Clottey, the first big boxing event of 2010 and first boxing match to take place at the brand new $1.2 billion dollar Dallas Cowboy's Stadium in Arlington, Texas held the first official press conference for the fight today.
Both boxers were awe struck at the size of the stadium and fanfare involved.  Jerry Jones was enthusiastic to finally host a boxing event with Manny Pacquiao after initially losing the bidding war to host Floyd Mayweather Jr. Vs. Manny Pacquiao.
Jones offered up a $25 million dollar site fee for the Mayweather-Pacquiao fight but since the fight fell through he was able to pick up Manny Pacquiao Vs. Joshua Clottey for March 13, 2010.
The fight will be broadcast live on HBO pay per view.  Tickets go on sale to the general public on Jan. 23, 2010 and can be ordered through Ticketmaster.com.  The ticket prices will be priced at $50,$100, $200, $300, $500, & $700.
Watch the Dallas "Manny Pacquiao Vs. Joshua Clottey" kick off presser click the picture below to view: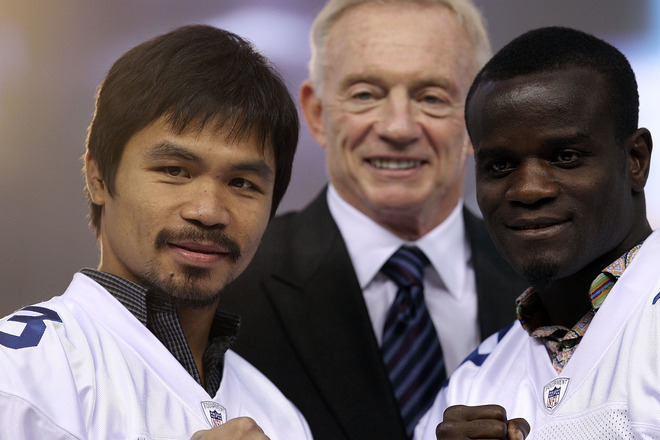 (Photo by Ronald Martinez/Getty Images)
Discuss this and other boxing news in the Now Boxing Forum (membership is FREE)