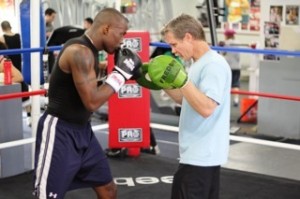 Quillin working with Roach at Wild Card (photo credit: Martin Snow)
NEW YORK (Apr. 28, 2010) – Undefeated middleweight prospect Peter "Kid Chocolate" Quillin (21-0, 15 KOs) is following the advice from the famous quote attributed to Horace Greeley, "Go West, young man, go West."
Quillin, who was rated as high as No. 5 by the IBF before a series of unfortunate circumstances, due to three consecutive injuries, cost him 18-months of his career. He will soon be moving from New York to Los Angeles, where he will now be handled by 4-time Trainer of the Year, Freddie Roach, at his famed Wild Card Gym.
"I still have a lot of things to learn and I will get better with Freddie Roach," Quillin commented. "I'm excited about moving to California. Colin (his trainer up until this point, Colin Morgan) got me to where I am today and I will always be indebted to him for being there for me since the first time I came to New York. My relocating to the West Coast has nothing to do with him. I thank him for everything. However, I feel a change in my life, so I can continue fully focusing on boxing, will benefit me."
"Freddie's hot, the West Coast is hot, and that's where Pete needs to be training at this stage of his career," Quillin's promoter, Gotham Boxing President Cedric Kushner, said about Quillin's June 1st relocation plan. "The bottom line is this is an opportunity of a lifetime that Pete can't afford to pass-up."
Quillin is one of the most entertaining, marketable, young (26 years old) boxers — before, during and after his fights. Fans can't wait for him to toss chocolate candies into the crowd as he leaves the ring, which has fast become a popular tradition for the son of a Cuban father.
"Pete's ready for another level and at Wild Card he'll have the best sparring in the world, work with the best trainer in boxing, and train in an incredible boxing atmosphere," Quillin's manager John Seip explained. "I can't say enough about the work Colin did with Pete. This change has nothing to do with him; we just couldn't ask for more than having Pete train with Freddie at the Wild Card Gym. This is an opportunity we couldn't refuse because he's 21-0 and needs to get to the next level in order to pursue his dream of becoming world middleweight champion. Moving to LA will put him in the best position to attain his career goals.
"The transition for Pete going out there will be easier because of Martin Snow, a close friend of mine who owns the Trinity Boxing Club in New York City, where Peter has trained. Martin opened up a Trinity Boxing Club in Los Angeles and he was instrumental in getting us involved with Freddie."
For more information about Pete "Kid Chocolate" Qullin go to www.GothamBoxing.com.
Got an Opinion? Submit Your Article to be posted on Nowboxing.com
JOIN the NOW BOXING FORUM to discuss this and other boxing news topics (membership is FREE)