Both Amir Khan and Paulie Malignaggi made weight for their WBA light welterweight title for on HBO boxing televised Saturday night May 15.
Paulie Malignaggi weighed in first at 139-pounds, and WBA Champ Amir Khan came in at 139 1/2 pounds, both coming in under the 140-pound light welterweight limit.
Shortly, after both fighters made weight they had the pre-fight stare down for the media, Paulie Malignaggi started yapping and Khan responded back. It got heated when both fighters were nose to nose and Khan shoved Malignaggi off him, resulting in a scuffle between both fighters camps. The majority of the audience in attendance were there for Amir Khan.
Khan promises to beat Paulie Malignaggi badly for his harsh accusations of Freddie Roach, Alex Ariza and Manny Pacquiao of using steroids or performance enhancing drugs. Khan insists that he and Pacquiao are both clean fighters and have nothing to hide.
The Khan vs. Malignaggi fight takes place at Madison Square Garden in New York city, New York at 9:45 ET/PT,  May 15, 2010 on HBO and ITV at 2:40 am UK time.  Also on the televised card will be a light-welterweight feature between Victor Ortiz and Nate Campbell.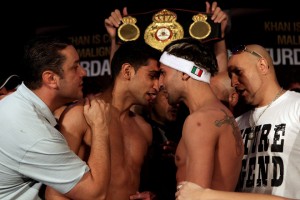 (Photo by John Gichigi/Getty Images)
Got an Opinion? Submit Your Article to be posted on Nowboxing.com
JOIN the NOW BOXING FORUM to discuss this and other boxing news topics (membership is FREE)