Former Welterweight boxing champion, Ricardo Mayorga, will make his MMA debut against UFC veteran Din Thomas on Saturday night, May 15 for SHINE Fights promotions.
The event is titled "Worlds Collide" and features Ricardo Mayorga vs. Din Thomas in a boxing vs. MMA type fight in MMA rules as the Main Event.
Not many in the boxing and MMA communities are giving Ricardo Mayorga any real shot besides a punchers chance against Din Thomas. Thomas has an extensive Jiu Jitsu background and could easily take the fight to the ground and finish it by ground and pound or submission, but if he chooses to stand and trade with Mayorga the fans could be treated to a much longer more exciting fight.
Some fans say that old boxing guys like Ricardo Mayorga and James Toney are only fighting in MMA now because they are irrelevant in boxing and need the money.
Mayorga hasn't fought in boxing since losing to Shane Mosley by knockout. Don King, Mayorga's boxing promoter,filed for injunctive relief against SHINE fights promotions if they went through with the Pay-per-view event stating that Mayorga is still under contract with Don King promotions. CEO of SHINE Devin Price laughed off King's threats and the show will go on.
Watch the Mayorga vs. Thomas heated press conference and brawl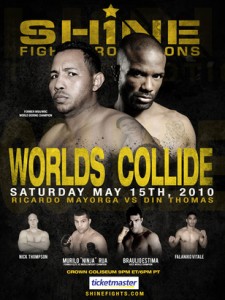 SHINE fights also put together a very good undercard of MMA fights.
Murilo "Ninja" Rua vs. David Heath
Nick "The Goat" Thompson vs. Eduardo Pamplona
Luiz Azeredo vs. Charles Bennet
Braulio Estima vs. Rick Hawn
Alexandre Ferreira vs. Jamal Patterson
Roger Carroll vs. Paulo Souza
SHINE 3 "Worlds Collide" Live PPV starts at 9pm ET/ 6pm PT Crown Coliseum Fayetteville, North Carolina
For more info on the  "World's Collide: Mayorga vs. Thomas" PPV visit Shine Fights
Got an Opinion? Submit Your Article to be posted on Nowboxing.com
JOIN the NOW BOXING FORUM to discuss this and other boxing news topics (membership is FREE)