MOOSIN USA presents "God of Martial Arts" PPV professional MMA show on Friday, May 21, 2010 9:00 PM/ET (6 PM/PT) at the DCU Center, Worcester, Massachusetts.
Former UFC heavyweight champion TIM "The Maine-iac" SYLVIA (25-6-0) from America versus former strongman champion MARIUSZ "Dominator" PUDZIANOWSKI (2-0), from Biala,Rawska, Poland will be the main event.
After suffering a string of losses to MMA Legends, Antonio Rodrigo Nogueira and Fedor Emelianenko, and a humiliating first round knockout to former heavyweight boxing champ Ray Mercer, Tim Sylvia is looking to bounce back with a win over former World's Strongest Man champ, Mariusz Pudzianowski.
Pudzianowski is a relative newcomer to MMA with no real mixed martial arts training he is diving into the deep end with Sylvia a UFC and MMA veteran who was once considered the most dominant MMA heavyweight fighter in the world.
Like Brock Lesnar, Mariusz Pudzianowski brings size and strength to the fight, but unlike Lesnar no wrestling pedigree. Sylvia not only has the experience, but the height and reach advantage.
Will the strong man from Poland defeat the Maine-iac?
The Moosin Pay-per-view undercard is a good one filled with MMA veterans:
TRAVIS "Diesel" WIUFF (60-14-0) vs. JOSH BARNES (7-3-0)
TRAVIS "The Serial Killer" LUTTER (10-5-0) vs. RAFAEL "Sapo" NATAL (11-2-0)
YVES "The Texas Gunslinger" EDWARDS (37-15-1) vs. MIKE "The Beast" CAMPBELL (8-2-0)
TARA LaROSA (18-1-0) vs. ROXY MODAFFERI (14-5-0)
HO JIN KIM (7-6-0) vs. LUKASZ "Juras" JURKOWSKI (14-9-0)
RALPH JOHNSON (4-0-0) vs. FORREST "The Meat Clever" PETZ (17-7-0)
MATT LEE (11-9-1) vs. BRETT OTERI (5-0-0)
FRED "French Foot Fighter' BELLETON (6-2-0) vs. ANTHONY "The Recipe" LAPSLEY (17-4-0)
PAUL BARRY (3-0-0) vs. STIPE MIOCIC (1-0-0)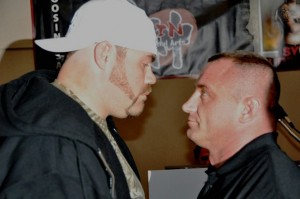 Former UFC champ Tim Sylvia and Mariusz Pudzianowski face off (Photo by: Przemek Garzarczyk)
PAY-PER-VIEW INFORMATION: Distributed by Integrated Sports Media at 9:00PM ET/6:00PM PT in North America on cable and satellite Pay-Per-View via iN Demand, DIRECTV, TVN and DISH Network in the United States, as well as Viewer's Choice, Bell TV and Shaw PPV in Canada, for a suggested retail price of only $29.95 (also available in HD). ). It is also available on www.GoFightLive.TV outside of the United States, Canada, United Kingdom and Poland. www.moosinusa.com
PPV ANNOUNCERS: Bas Rutten, Jeff Gorman and Tom Megalis
Got an Opinion? Submit Your Article to be posted on Nowboxing.com
JOIN the NOW BOXING FORUM to discuss this and other boxing news topics (membership is FREE)