PROVIDENCE, R.I. (June 14, 2010) – After sparring with world heavyweight champion Vitali Klitschko for three weeks in Austria, Hartford heavyweight prospect Tony "TNT" Grano returned home for a week before shuffling off to Buffalo for training camp to prepare for his Saturday night, June 26 headlining fight on the "Pride & Power" boxing card, presented by Jimmy Burchfield's Classic Entertainment and Sports, Inc. (CES), in the 10-round main event at Mohegan Sun Arena in Uncasville, Conn.
The WBF All-Americas heavyweight champion, Grano (17-1-1, 13 KOs), faces former U.S. amateur standout, Nicolai "Stone Man" Firtha (17-7-1, 7 KOs), for the vacant NABO-US heavyweight title.
Grano has enlisted the services of Juan DeLeon, who trained "Baby" Joe Mesi, as his co-head trainer along with Derrick Whitley. In Buffalo, Tony trains with DeLeon and when he's back home, Grano's handled by Whitley; the two have been together since Tony's amateur days.
"I had a great opportunity to spar with Vitali for his fight against (Albert) Sosnowski," Grano explained. "He stopped Sosnowski in the 10th. I had a big fight coming up, too. Derrick couldn't get away and I was over there working with Juan, who has joined our team, and it was a great experience training together. I'm with him now at training camp in Buffalo and he's really working me hard. I'm running on the track at 7 a.m., working three days a week on strength and conditioning, and sparring three or four different guys who are 6-6, 6-5 and weight around 250 pounds like my opponent.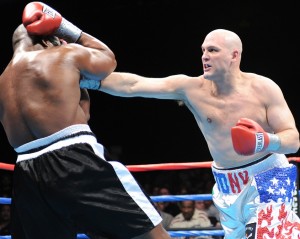 Photo of Tony Grano (Photo by Emily Harney)
"It is tough finding a good trainer who can help you get to the next level. I'm not making the kind of money where I can hire a trainer to go away with me to training camp for weeks at a time. They have other jobs and families. I knew Juan from when I sparred with Joe Mesi in Puerto Rico. We worked well together then and now things couldn't be better. I have two head trainers working together with me for this fight. Firtha is big and he can box. He's going to come right in and try to bully me around. I need to stick and move, use my jab, go to the body, and work the angles. It could possibly be an early night but I'll be prepared to go 10 rounds."
The Ring magazine recently named Grano's sensational victory by fourth-round knockout last September on Showtime against previously undefeated Travis Kaufman (18-0) as its 2009 Heavyweight Fight of the Year. "It was great to see Ring recognize me and the fight," Grano added. "It was a non-stop action fight. It was up against a lot of other good heavyweight fights last year and to get that recognition was great."
Mike "Machine Gun" Oliver (23-2, 8 KOs), the reigning New England and EBA super bantamweight champion, continues his journey back to the top of the division, taking on former multiple title-holder Mauricio "Indio Boy" Pastrana (35-13-2, 23 KOs) in the 8-round co-feature. Oliver, another Hartford fighter, is rated No. 4 by the USBA. Pastrana has been world champion of the IBF, WBA, IBO, and IBA.
Long Island light heavyweight Joe "The Irish Bomber" Smith Jr. (4-0, 4 KOs), a 2008 New York Gold Gloves Champion, goes for his fifth first-round knockout against upset-minded Mazur Ali (6-6, 3 KOs).
Also on the undercard in 4-round bouts are unbeaten Philadelphia welterweight Frankie Trader (6-0, 2 KOs) vs. Springfield's (MA) Noel Garcia (2-3-1, 1 KO); New Haven middleweight Rick Dawson (1-0, 1 KO), brother of  light heavyweight star "Bad" Chad Dawson, vs. TBA; Bridgeport (CT) super lightweight Carlos Hernandez (0-1) vs. pro-debuting Jonathan Vasquez, of Fall River (MA); Springfield's pro-debuting Jose Torres vs. Stamford (CT) light heavyweight Ahmad Mickens (1-0-1); New Haven junior welterweight Edwin Soto (4-0, 2 KOs) vs. Bryan Abraham (2-3-1, 2 KOs); and New Haven prospect Luis Rosa (2-0) vs. Puerto Rican super bantamweight Jose Del Valle (0-0-1).
Tickets for "Pride & Power," priced at $40.00, $65.00 and $105.00, are available to purchase by calling CES (401.724.2253/2254), going online at www.cesboxing.com or at the Mohegan Sun Box Office. Ticketmaster customers may log on to www.ticketmaster.com, call Ticketmaster's national toll-free charge by phone (1.800.745.3000) or visit any Ticketmaster outlet.
For more information contact CES (401.724.2253/2254/www.cesboxing.com) or Mohegan Sun (www.mohegansun.com). Doors open at 6:00 PM/ET, first bout at 7:30 PM/ET.
Got an Opinion? Submit Your Articles and Press Releases to be posted on Nowboxing.com
JOIN the NOW BOXING FORUM to discuss this and other boxing news topics (membership is FREE)