Royal Court Theatre presents: "Sucker Punch" by Roy Williams showing from the June 11, 2010 until July 31, 2010.
Hit Boxing play Sucker Punch must end Sat 31 July
'The Royal Court has been spectacularly transformed into a boxing club for this
bruising new play by Roy Williams. Thrilling. Gripping. Wonderfully authentic.'
Daily Telegraph
* * * *
'KNOCKOUT'
Daily Telegraph, Evening Standard, Guardian, Independent, Time Out, Times
Trained by ex-England Boxing Captain Errol Christie, actors Daniel Kaluuya and
Anthony Welsh step into the ring in this gripping production.
Click the video below to watch Professional Boxer Errol Christie discuss Sucker
Punch on ITV's London tonight feature.
Don't miss out on your chance to see this hit boxing play, which takes a look back
to the 80's and asks if the right battles have been fought let alone won.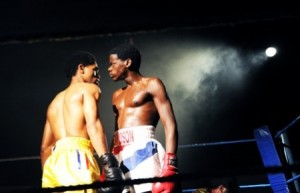 'Brilliantly staged. An event.a mighty entertaining bout.'
The Times
'Ferociously beautiful… Gut-wrenchingly convincing yet triumphantly theatrical. A
fast, thrilling dramatic bout that packs a political punch.'
Time Out
'A Knockout. A sublime soundtrack of James Brown funk, and a pounding heartbeat bass
line. Punchy and Hard-hitting.'
Metro
TICKETS FROM £10 ONLY! (£6 for Under 26s)
Watch the show trailer | Listen to the podcast | Read the full reviews
Ticket prices
Tickets from £10 – £25 (£6 for under 26s)
Groups of 6+ £5 off top price (avail. Tue-Fri)
Performance times
Mon – Sat 7.30pm
Sat matinees 3pm (excluding Sat 31)
To book call the box office on 020 7565 5000 or click here
*Please refrain from leaving any Racial, Profane or Derogatory comments*
Got an Opinion? Submit Your Articles and Press Releases to Nowboxing.com
JOIN the NOW BOXING FORUM to discuss this and other boxing news topics (membership is FREE)