Former super-middleweight (168 lbs) boxer and current IBO cruiser-weight champion, Danny "Green Machine" Green, told the Daily Telegraph that he would be interested in fighting the current UFC heavyweight champion, Brock Lesnar.
"I've spoken to my management team about getting in touch with (UFC president) Dana White to see if it's possible. It would have to be a stand up fight. There's no way I could compete with Lesnar on the ground…The bloke outweighs me by plenty and was a champion college wrestler. But to stand inside a steel cage and be able to use fists and elbows … I'd fight bareknuckle if that's what it takes to get him inside a steel cage," Green told Sydney's Daily Telegraph on July 20, 2010.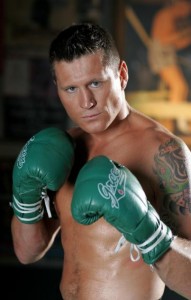 The size differential would be significant but Green has a history of taking on the toughest guys in boxing, he once traveled to Los Angeles, California in 2004 to spar with heavyweight boxer James Toney and the sparring session turned out to be a real gym war.
Green is currently contending at cruiser-weight, he holds the International Boxing Organization cruiser-weight title and his next fight is on July 21 against fellow Aussie boxer Paul Briggs. Danny Green's biggest win was a knockout against Roy Jones Jr in December or 2009.
*Please refrain from leaving any Racial, Profane or Derogatory comments*
Got an Opinion? Submit Your Articles and Press Releases to be posted on Nowboxing.com
JOIN the NOW BOXING FORUM to discuss this and other boxing news topics (membership is FREE)