With news reports swirling around the web of Manny "Pacman" Pacquiao being interested in dabbling in Mixed Martial Arts, it's only natural that some MMA guys clamoring for a big payday against the boxing superstar would call him out.
The first man to call out Manny Pacquiao to welcome him to MMA is Strikeforce lightweight fighter, K.J. Noons, who is also a boxer, and currently signed to fight Nick Diaz in San Jose on Oct. 9. Noons also made a proposition, that he would stand with Pacquiao in the MMA cage and would also fight him in a boxing ring under boxing rules.
Noons in a report by FightHype.com said, "I would love to welcome Manny Pacquiao into MMA. It would be an ideal situation for him because I don't take guys down to the ground, and after that's all said and done in the cage, I would be willing to step inside of the ring with him too, something we all knew Randy Couture wouldn't do with James Toney. I know Floyd Mayweather isn't looking to do MMA, but I would still be willing to fight Mayweather and Pacquiao in a boxing match and both camps have been reached, so we will see what happens."
"I will put it this way, both camps have been reached and both camps were very interested," said Noons on the seriousness of a Pacquiao or Mayweather match-up.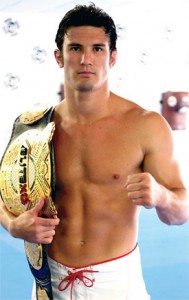 This could just be hype for Noons to gain more media attention, but Noons has stated many times he is serious about being the first fighter in history to win an MMA belt and a Boxing belt.
As for now, Manny Pacquiao is beginning  his training camp for his fight with Antonio Margarito on November 13 for his 8th world boxing title in an 8th weight division.
*Please refrain from leaving any Racial, Profane or Derogatory comments*
Got an Opinion? Submit Your Articles and Press Releases to be posted on NowBoxing.com
JOIN the NOW BOXING FORUM to discuss this and other boxing news topics (membership is FREE)