In some sad and shocking news, former female boxing champion, Christy Martin, 42, has been hospitalized after being shot and stabbed in her Orange County, Florida home by her husband 66 year old James Martin.
TMZ.com reported the story early Wednesday morning. Martin was able to escape from her home while badly injured and was able to get a ride from an incoming motorist who took her to the hospital. Martin told authorities that the person who shot and stabbed her was her husband James Martin.
James Martin is currently on the run and the police are searching for him.
Martin was the face of female boxing in the 1990's even making the cover of "Sports Illustrated" in 1996. She went by the moniker Coal Miners Daughter because her father was a coal miner.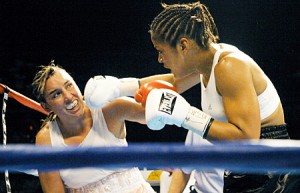 *Please refrain from leaving any Racist, Profane or Derogatory comments*
Got an Opinion? Submit Your Articles and Press Releases to be posted on NowBoxing.com
JOIN the NOW BOXING FORUM to discuss this and other boxing news topics (membership is FREE)