After Saturday nights one sided beatdown by pound for pound boxing king Manny "Pacman" Pacquiao, Mexican slugger Antonio Margarito had to be brought to the hospital by ambulance missing out on the post-fight press conference.
During Margarito's trip to the hospital doctors checked on his swollen face to assess the damage done by Manny Pacquiao, and the doctors found a fracture on Margarito's orbital bone which is near the eye socket.
In a report by ESPN Dallas, Margarito will need to stay in Texas and have surgery on Tuesday to help repair the damaged orbital bone he suffered in the fight.
The beating that Antonio Margarito took to his face was so bad that even Manny Pacquiao looked to the referee Laurence cole several times past the 10th round hoping he would stop the fight to prevent anymore damage to Margarito.
Margarito had previously said he wouldn't quit on his stool like Oscar De La Hoya — tonight he proved he is no quitter but at what cost? Freddie Roach, who trains Pacquiao, believes the corner should have stopped the fight and this type of beating will have a major effect on Margarito's boxing career and long term health.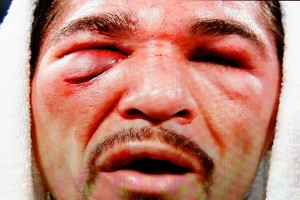 A full fight replay of Pacquiao vs. Margarito will air on Saturday November 20, 2010 on HBO (FREE for HBO subscribers) following the anticipated rematch between Paul Williams and Sergio Martinez for the Middleweight championship of the world.
*Please refrain from leaving any Racial, Profane or Derogatory comments*
Got an Opinion? Submit Your Articles and Press Releases to be posted on NowBoxing.com
JOIN the NOW BOXING FORUM to discuss this and other boxing news topics (membership is FREE)