By Lester Salvador
Manny Pacquiao is finally fighting a guy who won't lay down, a bigger, stronger, hungrier guy who is not scared to take shots to give shots. That man is known as the Tijuana Tornado Antonio Margarito.
After watching the HBO 24/7 series, I saw that Margarito is no joke, and Pacquiao has become arrogant and overconfident. Manny Pacquiao is taking this fight lightly and he will cry worse than he did when he took Erik Morales lightly the first time when Morales beat him so bad he started crying after the fight.
I wonder if after Manny gets knocked out by Margarito that he will regret not taking the drug tests for the Floyd Mayweather Jr. fight. Instead he will get knocked out for lesser money when he could have lost to Mayweather Jr. and left with more than 50 million U.S. dollars and not Philippines pesos.
I say this confidently. Finally, the day has come when all the cocky Pacquiao fanboys will get humbled and have their overconfident mouths shut. All these guys do is insult you and act like Pacman is invincible when he has been knocked out 2 times by taxi cab drivers and been knocked down from jabs and soft punches in the past.
Look at this picture below of Manny Pacquiao and Antonio Margarito side by side there is no way  Pacquiao can beat this guy just look at the size difference. Freddie Roach said he couldn't sleep at night thinking if this was a smart fight to take, Freddie, sorry to say this, but you picked the wrong Mexican this time. And that catchweight crap won't work this time because the 150-pound weight limit will only benefit Margarito, should have asked for your typical 145-pound catchweight instead so you can drain Antonio to your likening.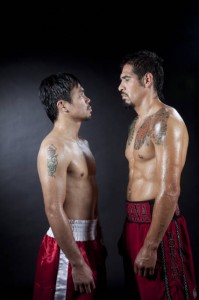 Antonio Margarito is a beast! He has the record for most punches thrown according to compubox numbers and he applies pressure like no other Pacquiao opponent. But that is not the key to his victory, Margarito's iron chin will be the key.
Pacquiao will back away when he realizes that Margarito can take his best shots, this will break Pacman's will and make Margarito confident as he smiles from every Pacquiao power shot landed on his chin. Pacman's power is overrated he doesn't have real one punch knockout power at all. He couldn't even hurt Joshua Clottey and the only time he has ever knocked  someone out cold was Ricky Hatton, who was probably drunk before the fight.
Manny Pacquiao will be knocked out between the 5th  or 8th round. This is what he gets for taking the Tijuana Tornado lightly and believing in his overrated power. Pacman made the mistake in believing his own press clippings and actually thinks his speed and power can overwhelm Margarito. There is no way that Manny can hurt Antonio Margarito when he couldn't even wobble or drop a weight drained Oscar De La Hoya.
This fight on November 13 is redemption for Margarito and all the Mexican fighters that Pacquiao and Roach took advantage of by beating them when they were past their prime or weight drained.
*Please refrain from leaving any Racial, Profane or Derogatory comments*
Got an Opinion? Submit Your Articles and Press Releases to be posted on NowBoxing.com
JOIN the NOW BOXING FORUM to discuss this and other boxing news topics (membership is FREE)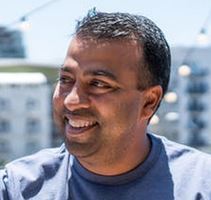 I love the sweet science of boxing and enjoy sharing my opinion on it.  Boricua!